Killer Mike Just Tore Down the Media Coverage of Baltimore in a New Op-Ed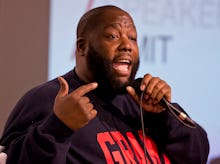 On April 25, rapper Killer Mike attended the White House Correspondents' Dinner by invitation of Arianna Huffington. While he enjoyed the luxurious setting and show, protests in Baltimore erupted. As one of the most active political voices in our generation, Killer Mike could barely take watching the media congratulate itself while in Baltimore a powerful story went untold. And then, when the media did tell that story, they sensationalized and misrepresented it. 
On May 1st, he published a powerful Billboard op-ed taking them to task.
"I felt helpless, hopeless," Killer Mike writes. "'Here I am at this lavish event — the most powerful man in the world is black, and people like him are being killed by the citizens who are paid to protect them.' I left the dinner numb."
The op-ed dives into these feelings of hopelessness and betrayal that many likely felt watching the Baltimore protests unfold. Like his op-ed on Ferguson, Missouri, and op-eds for the criminal justice system's treatment of hip-hop, his latest is personal, insightful and absolutely necessary. It aims especially harsh criticism at the media, whose Baltimore coverage let us down in so many ways.
The media blitz: Killer Mike upbraids the media for encouraging people to assume a single close-minded view on the happenings in Baltimore. He mentions a video that shows one protester pointedly asking a grinning Geraldo Rivera, "Why are you here? Not to cover a calm and peaceful protest — you're here to sensationalize it."
"Rivera turned his back on him, and at first I thought it was arrogance, but I think it was actually shame," Killer Mike writes. "This half-Hispanic, half-Jewish man who comes from two different communities, who knows what poverty and oppression can do, could have said, 'I want to know the real story.'"
Killer Mike also talks about Wolf Blitzer's inane coverage on CNN, in which he made repeated claims like "I don't remember seeing anything like this happening in the United States of America in a long time," though Ferguson was only a few months ago.
"I don't trust ... that they want to see the change," Killer Mike writes.
To all the "thugs": He also addresses the protesters, saying he understands the rioting and the violence. He know these protesters are not the "thugs" that so many news outlets and even the mayor of Baltimore deemed them.
"I don't criticize rioting because I understand it," Killer Mike writes. "But after the fires die down: organize, strategize and mobilize. Like Ferguson, you have an opportunity to start anew ... But we need community relations: Riots are the language of the unheard."
Killer Mike doesn't offers specific solutions, but his bold criticism of the media sends an important message. Change has to come from the ground up, not from the sometimes sensationalizing voices of the press. "Whoever's there will have to come up with it," he writes. Whoever that is will need support from a community dedicated to putting in the hard work to turn this movement in a productive direction. Killer Mike is behind them and so is everyone who believes in his message.
h/t Billboard