Yet Another Women's College Will Now Admit Trans Women — So What's Stopping the Others?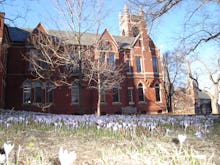 Smith College, one of the largest women's colleges in the United States, will now admit transgender women.
The new admissions policy, announced Saturday, makes Smith the sixth women's college in the U.S. — in addition to Mount Holyoke, Simmons, Mills, Bryn Mawr and Wellesley colleges — to make similar policy reversals. But the work of trans inclusion at women's colleges isn't over yet. 
Several other women's-only institutions of higher learning also remain closed to trans women. What's with the hold-up?
How Smith came around: Smith's policy excluding trans women drew widespread backlash in recent years, the Advocate reported earlier this year. More than 4,000 people signed a Change.org petition in 2013 after the college denied a prospective trans student's application, because her gender identity wasn't legally recognized in her home state. Meanwhile, trans allies on campus held rallies in support of changing the admissions policy. The resulting pressure prompted Smith officials to temporarily stop rejecting applications from trans women based on their gender status and form a committee dedicated to better understanding prospective trans students. 
The policy change came after a year-long study group investigated any potential effects on the campus community. In Saturday's announcement, the president of Smith College and the head of its board of trustees said the decision "affirms Smith's unwavering mission and identity as a women's college, our commitment to representing the diversity of women's lived experiences and the college's exceptional role in the advancement of women worldwide."
The college's institutional communications, according to the statement, will still use gendered language, including feminine pronouns, in keeping with the college's longstanding tradition. Indeed, trans women are women — because gender is a matter of identity, not simply sex assigned at birth. But somehow the inclusion of trans women remains largely up for debate at other women's colleges. 
There's still more to be done. Mills College in Oakland, California, became the first women's-only institution to adopt a trans-inclusive admissions policy in August 2014. Soon other women's colleges made similar changes. As Mic's Marcie Bianco wrote in September, after Mount Holyoke adopted an admissions policy including all trans individuals, that "other women's colleges have taken this position can be understood as nothing short of a form of biological determinism, couched in an antiquated understanding of gender that, ironically, the feminists at these colleges historically worked to counteract."
She continued, "It's as if no one remembers the most famous quote from Simone de Beauvoir's The Second Sex: 'One is not born a woman, but rather becomes, a woman.'" Bianco noted, at the time, that "Smith's revised policy on transgender students remains uncomfortable in its ambiguity, relying 'on a case-by-case basis' in determining whether an application reflects a candidate's 'status as a woman.'"
Among the original Seven Sisters, Barnard College is the only one without a policy specifically admitting transgender female students (Vassar is co-ed, while Radcliffe is now the Radcliffe Institute for Advanced Study at Harvard University). However, Barnard also named acclaimed trans writer Jennifer Finney Boylan its writer in residence last year and the campus community has openly discussed changing the policy to admit trans students. 
In total, there are 46 all-female colleges in the U.S., and enrollment is on the decline, the New York Times reports. As of last year, federal Title IX protections, which have long deemed sex discrimination illegal at any school that accepts federal funds, now include transgender and gender-nonconforming students, according to the National Center for Transgender Equality. It's unclear whether or not last year's expansion of Title IX influenced the current stream of policy reversals at women's colleges, although schools could be punished for discriminating against students that are not cisgender. 
Regardless of what's motivating policy shifts at gendered institutions of higher learning, it's clear that the climate is steadily moving towards one that's starting to better understand the experiences of trans and gender-nonconforming students. It's about time other schools got on board.