Carly Fiorina Is Running for President as the Anti-Hillary Clinton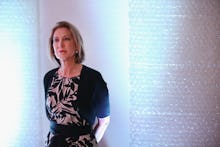 Carly Fiorina is the first woman to take a shot at the Republican nomination for president, and she's pitching herself as the anti-Hillary Clinton.
The former Hewlett-Packard CEO's new video announcing her bid for the White House begins with her watching a Hillary Clinton advertisement on television, and then emphatically turning it off before it ends:
Fiorina doesn't mention Clinton by name in the minute-long video, but she implies that Clinton is symptomatic of the systemic problem of career politicians in America.
"Our founders never intended us to have a professional political class," Fiorina says. "They believed that citizens and leaders needed to step forward. We know the only way to reimagine our government is to reimagine who is leading it." 
On ABC's Good Morning America on Monday, when Fiorina made her official public announcement, she said that Clinton has a number of key assets for a political leader, but that she lacks the integrity appropriate for someone leading the country.
"I have a lot of admiration for Hillary Clinton, but she clearly is not trustworthy," Fiorina said. "She has not been transparent about a whole set of things. She wasn't transparent about Benghazi — in fact just the opposite. She peddled a fiction about it for a month. She hasn't been transparent about her server and her emails, and now we see all of these foreign government donations to the Clinton Global Initiative at a time when she was Secretary of State."
The techie and the technocrat: Fiorina's campaign for the nomination has begun by denouncing Clinton for typifying the problems of a "professional political class," but so far it's clear that she favors another kind of technocracy: a government run by members of the professional business class. 
Fiorina's conviction that she's fit to manage the nation's problems rests on her business acumen and her experience as a leader in the corporate world, most notable of which was a stint as the chief executive of Hewlett-Packard from 1999 to 2005.
"I think I'm the best person for the job because I understand how the economy actually works," Fiorina said on Good Morning America. "I understand technology, which is a tool, both to reimagine government and to re-engage citizens in the process of government. And I understand executive decision-making, which is making a tough call in a tough time with high stakes, for which you're prepared to be held accountable."
Out the gates Fiorina is already playing up her role as a mover and shaker in the tech sector. According to CBS, she will host a town hall event on Monday through Periscope, a relatively new app that allows people to broadcast live video streams with their phones. On Tuesday, she will be speaking at TechCrunch Disrupt in New York City.
Hewlett-Packard may be Fiorina's claim to fame and credentials, but it could also be her downfall. Her tenure at the company was extremely polarizing, and after six years there she was forced to resign.
One of her critics has chosen to make a point of this by registering CarlyFiorina.org to slam her for laying off thousands of workers at the company during her time as its head. This is what the site looks like:
After scrolling down through a few minutes worth of sad faces, it says this:
Fiorina has her work cut out for her.