The 17 Biggest Blockbuster Films You Can't Miss This Summer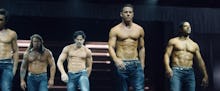 Ah, summer movie season. Can you smell the fresh green dollar bills as they roll into studios' pockets? See the gorgeous waves of abs, visit a theme park — it's the most wonderful time of the cinema year.
But with so many big-budget movies looking to grab you away from the sights and sounds of the outdoors, you may wonder what's worth it. What's the Neighbors of this year, an underrated gem with box-office legs? What's the Jersey Boys, a good idea gone wrong? We're breaking down the 17 blockbusters-to-be you have to see this season.
Pitch Perfect 2 (May 15)
Promising to be as fun as the first, the Pitch Perfect sequel comes with the hopes of scores of young fans attached. A massive amount of new songs (dwarfing the playlist from the first film), plus a reunion of fan favorite characters from the first, make for a pretty surefire plan for success. Can musical comedy queen Anna Kendrick be stopped on her way to the top? Unlikely — and thank goodness.
Mad Max: Fury Road (May 15)
Rarely has a weekend been better counterprogrammed than that of May 15. Not a fan of a cappella? We've got the Mad Max sequel starring Tom Hardy for you. Surely there will be fans of both, but this is one weekend when most movie fans will find something to love. The fourth film in the Mad Max series has taken decades to make it to the screen, but the trailer and footage are impressive. Like The Fast and the Furious before it, Fury Road has the chance to take a retired franchise and make it fresh again without a full reboot.
Tomorrowland (May 22)
Speaking of impressive trailers: The first for Tomorrowland, Disney's latest based-on-a-theme-park-feature flick, was stunning. Who is this girl who's wound up on the wrong side of the law, and where does a magical pin take her? The subsequent trailers, which focused more on George Clooney's mysterious character, frame the story more as an expected "chosen one" narrative than previously imagined. That said, this is an ambitious project for Disney. It could be tremendous fun.
Spy (May 22)
The most fun you'll have at a movie this summer is Melissa McCarthy's new movie Spy. Similar to her 2013 hit The Heat with Sandra Bullock, this is an action-comedy caper directed by Paul Feig. Unlike McCarthy's other post-Bridesmaids roles, however, she isn't restricted to ridiculous wigs and costumes in this one. There's some of that, but audiences expecting the same old from McCarthy will be pleasantly surprised. Bonus points: Jason Statham and Bridesmaids co-star Rose Byrne are hilarious, and there's a side-splittingly funny cameo from a rapper. It's a must-see this summer.
Aloha (May 29)
Did you know "aloha" means both goodbye and hello? Aloha sure does! Its tagline, insufferably, is "Sometimes you have to say goodbye before you can say hello." That's terrible, but Emma Stone and Bradley Cooper are great. The romantic comedy is back, which means we're gonna get mind-numbingly silly premises sometimes. For example, Cameron Crowe's Aloha is about a defense contractor and Air Force pilot who fall in love. But, again, Stone and Cooper! Have faith in their charm.
Jurassic World (June 12)
It's been 14 years since Jurassic Park 3, and this fourquel is doing the reboot movie right. With Chris Pratt at its movie star core and a new story about an actual dinosaur theme park, this flick is amping up to be the stuff of dreams, or, when the dinos turn on you, of nightmares.
Inside Out (June 19)
Pixar has undoubtedly been in a slump the last few years. Brave was a modest hit, but Monsters University and Cars 2 gave the impression that the once-innovative studio had fallen into sequel squalor. Enter Inside Out, the film that shows the fictional emotional process of a young girl. It's exactly the kind of ambitious premise Pixar usually knocks out of the park (WALL*E, Finding Nemo), and it features Amy Poehler as the lead voice actress. The studio may have lost its crown to Disney Animation in the last two years (with Frozen and Big Hero 6 standing tall), but Inside Out looks to be their comeback tour.
Ted 2 (June 26)
Seth MacFarlane as a nasty teddy bear once again co-stars with Mark Wahlberg. That's about it. You'll either love or hate this one. The original Ted was surprisingly funny and cute, but this one seems like it might have the "Hangover syndrome": Too much of a good thing can indeed be terrible.
Magic Mike XXL (July 1)
Speaking of "love it or hate it," the original Magic Mike sharply divided audiences. Why was this movie about Channing Tatum and other hot men stripping bothering with plot? Where were more naked men? Luckily, Tatum and Co. heard fans' cries and made a much more straightforward film this time around. Mike and his boys go on a road trip together. Skin ensues. If nothing else, the dancing that was so sharp in the original — try not to be entranced by Tatum's "Pony" routine — looks to be back in fine form.
Terminator: Genisys (July 1)
After the well-meaning but unsuccessful Terminator: Salvation, the franchise Arnold Schwarzenegger built was in need of an overhaul. Leave it to the Governator to do it himself with Genisys, the poorly spelled but aptly subtitled new film. Schwarzenegger has been trying new things lately, so it's strange to see him back in the role that made him an icon. But for fans of the original John Connor, this will be a blast.
Minions (July 10)
The little yellow things from the Despicable Me movies get their own film. They're fairly adorable, but if you're allergic to cartoons that look like mutant Twinkies, take solace in the fact that Bullock is the film's main villain. Her husband is voiced by Jon Hamm. If that doesn't sell you, nothing will.
Ant-Man (July 17)
If Avengers: Age of Ultron was just a bit too big for you, consider the microscopic Ant-Man instead. The Paul Rudd-starring superhero flick has been to hell and back in the development process, but the final product is looking pretty good. 
Trainwreck (July 17)
Did Bridesmaids really change things for the better for female-driven comedies? That's what Trainwreck will test this summer, as the guffaw-inducing Amy Schumer stars in a very raunchy, very Schumer rom-com with Bill Hader as her love interest. It looks fantastic — now audiences need to connect. If they do, it could be a major launching pad for Schumer into the world of film. We could use more movies like Trainwreck by artists like her.
Mission: Impossible — Rogue Nation (July 31)
After Mission: Impossible — Ghost Protocol proved pleasantly surprising, you'd think there'd be more enthusiasm for the series' fifth installment. Sadly, much of what made Ghost Protocol work last time is gone now, including director Brad Bird and femme fatales Paula Patton and Lea Seydoux. Tom Cruise and the awesome Simon Pegg are still on board, along with Jeremy Renner, who you'd imagine must be getting sick of franchise movies by now.
Vacation (July 31)
Little is known about this one, except it's an extension of the National Lampoon Vacation films from the 1980s. Ed Helms plays the oldest Griswold child, while Chevy Chase and Beverly D'Angelo reprise their roles from the original films. Go with your parents to this one: They'll laugh just as hard as you, if not even harder.
Fantastic Four (Aug. 7)
Like Spider-Man, which is now on its third reboot in just over a dozen years, Fantastic Four operates outside the DC and Marvel bubbles with limited success. The previous reboot, which starred current Captain America Chris Evans, never quite caught fire. This version, featuring a younger cast that includes Kate Mara, Miles Teller and Michael B. Jordan, looks better. This is definitely the time for a movie about a superhero team, as Avengers proved. But will this be the right team?
Straight Outta Compton (Aug. 14)
This isn't your typical blockbuster. The biopic about N.W.A., the rap quintet that included Ice Cube, Dr. Dre and others, may be too small for the noise of summer movie season. Yet it picked the perfect month (August, when things slow down for the season) and should play huge with audiences. It has the potential to be a major under-the-radar hit this year.