This Baltimore Officer Has the Perfect Message for Her Community After the Baltimore Riots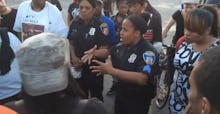 The past week has seen Baltimore gripped by civil rights marches and protests since the April 27 funeral of Freddie Gray, the young black man who died of a spinal chord injury he incurred while in police custody. Many accused the media of biased reporting, which fueled frustrations regarding racism and antagonized police-civilian relations, further driving a rift between sympathizers and condemners across the nation.
However, little by little, one Baltimore police officer is trying to change all that. A video of Sgt. K. Glanville talking to protesters while she was patrolling the streets Saturday night reveals how invested she is in fostering relationships and understanding in the community. 
While people were out celebrating Maryland State's Attorney Marilyn Mosby's decision on Friday to file criminal charges against six police officers allegedly responsible for Gray's death, the anti-police sentiment among large swaths of Baltimore was still strong.
But Glanville was determined to create a sense of unity, reminding people Baltimore is her city as well and she is just as passionate about seeing justice as they are. 
In the video, she calls on marchers and protesters to offer their own compassion and not demonize all police officers, lest it worsen relationships in an already fragile community.
Glanville reportedly has a degree in political science and has served in the Baltimore Police Department for 19 years without ever receiving a complaint, according to the Huffington Post.
"Something is wrong. So I'm going to every day put on this uniform and do the best that I can to make sure that it's right," she tells the crowd. Afterwards, many people hug Glanville, some even crying during the much-needed catharsis. 
The juncture of race relations and police brutality in America over the past year has carved a deep wound in marginalized communities. Many in these communities feel there is no accountability for those police officers who perpetrate racially-motivated brutality, like Darren Wilson, the Ferguson officer who wasn't indicted for shooting black teenager Michael Brown. This has led to the damaging process of demonizing all police, which only serves to buttress racial divides. 
Glanville's attempt to humanize the police by reminding people they're not all bad and are there to protect and serve comes at a time when cities like Baltimore are in desperate need of connection. Having more officers like Glanville would be a huge step toward healing these deeply ingrained wounds.
You can watch the whole interaction below.