13 Indie Films to Help You Beat the Blockbuster Heat This Summer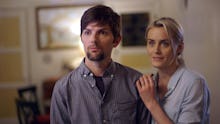 Just looking at the stack of blockbusters ahead this summer can be tiring. How many dinosaurs, minions and strippers can anyone handle? Luckily, the days of summer being only for the big tentpole films are over. Here are 13 must-see independent films to help break up an overstuffed seasonal movie calendar.
Slow West (May 15)
The last time Kodi Smit-McPhee went on a cinematic journey, the film was The Road and the world was over. Now, in the appropriately titled Western Slow West, he's traversing in the late 1800s, this time with a loose cannon Michael Fassbender by his side. This John Maclean film has the sensibility of a Coen brothers flick (a lot of True Grit vibes here), and Fassbender is always impressive.
Love and Mercy (June 5)
This tale of Beach Boy Brian Wilson's life isn't your typical biopic. Taking a page from 2007's I'm Not There., Wilson is played by different actors during his life: There Will Be Blood's Paul Dano when young, then John Cusack when older. Love and Mercy opened to a warm reception at the 2014 Toronto International Film Festival. As it's about a beloved musician, it should play just as well with audiences.
Live From New York! (June 12)
A Tribeca Film Festival premiere, the documentary Live From New York! holds Saturday Night Live up as a cultural touchstone. From Mic's coverage of its Tribeca debut:
Live from New York!'s importance comes through how clearly it makes the case for 'SNL' as iconic. This is a show that makes an impact. It's more than just parody commercials and sketches forgotten by Sunday — it's historic.
Dope (June 19)
Following in the footsteps of last year's Dear White People, Dope takes a young cast of color and subverts all sorts of expectations and stereotypes. The Sundance Film Festival favorite is about three nerdy teens who wind up with a bag full of drugs purely by chance. They need to get the stuff off their hands. Hijinks ensue.
The Overnight (June 19)
Another Tribeca premiere, The Overnight stars TV favorites Taylor Schilling (Orange Is the New Black) and Adam Scott (Parks and Recreation) as a couple new to a neighborhood. Their new neighbor, Jason Schwartzman, invites them over for a playdate. No, not just a playdate for their kids, but for the adults as well. It is as weird and wild as it sounds.
Infinitely Polar Bear (June 19)
This Mark Ruffalo-Zoe Saldana film has been kicking around for a while after filming more than two years ago. It premiered at Sundance last year, and this summer, the story of a man with manic depression struggling to become part of his family again will finally see the light of day. Ruffalo and Saldana are talented performers, but the question remains whether they can sell this heavy material to a sunny summer audience.
Tangerine (July 10)
Tangerine, on the other hand, is absolutely perfect for a summer audience. This buddy dramedy about two trans women seeking one of their cheating boyfriends looks like a blast. Not only that, but it's remarkably diverse for its genre — as Indiewire's Katie Walsh pointed out after the film's Sundance debut, the film feels fresh among indies that primarily "focus on #WhitePeopleProblems." Audiences needing a shot of fun need look no further.
Mr. Holmes (July 17)
Ian McKellen stars as a deconstruction of the Sherlock Holmes myth haunted by the one case that sent the detective into early retirement. Are you sold yet? This could easily be the sleeper hit of the summer, with a powerful property and a widely beloved star at its center.
The End of the Tour (July 31)
Call it Almost Famous: The Literary Edition. A Rolling Stone journalist (Jesse Eisenberg) shadows writer David Foster Wallace (Jason Segel) around the time his novel Infinite Jest was first gaining acclaim. It's reportedly a very talky film, more theatrical than cinematic, but with luminaries like Wallace, that's all you could possibly want.
The Diary of a Teenage Girl (August 7)
This graphic novel adaptation stars Kristen Wiig, Alexander Skarsgård and Christopher Meloni, among others. Wiig plays the mother of Minnie (Bel Powley), who has an affair with Mom's boyfriend (Skarsgård). It's yet another in Wiig's collection of weird, relatively understated films post-Bridesmaids (see also: Welcome to Me, Girl Most Likely). That means it's probably going to be yet another love-it-or-hate-it entry in her filmography.
Grandma (August 21)
The Lily Tomlin showcase debuted at Sundance, killed at Tribeca and is now on its way to world domination. From Mic's coverage of the film's Tribeca premiere:
'Grandma' is a superb film, and not just thanks to its strength as an abortion comedy. The narrative explores intergenerational relationships, both familial and romantic, between formidable women. ... It isn't just a great movie, though. It's part of a greater movement. That's why, among all the reasons it's worth celebrating, 'Grandma' should be elevated to a higher plane of appreciation and respect.
Sleeping With Other People (August 21)
Another Sundance/Tribeca stunner, director Leslye Headland has crafted a truly 21st-century romantic comedy here, with killer chemistry from leads Jason Sudeikis and Alison Brie. From Mic's coverage of the film's Tribeca premiere:
'Sleeping With Other People' is much more the stereotypical romantic comedy. It even borrows heavily from 'When Harry Met Sally,' tackling the question of whether a man and a woman can just be friends. But director Leslye Headland took that template and did just about every interesting thing she could within it.
She's Funny That Way (August 21)
This Peter Bogdanovich comedy is a bit of a wild card. Owen Wilson plays a Broadway director, married to his star (Kathryn Hahn), who falls for a sex worker (Imogen Poots). The sex worker is seeing a therapist (Jennifer Aniston) who is dating Wilson's playwright (Will Forte), who asks the sex worker out. Confused? Understandably! Sit back and enjoy the laughs — at least, until Aniston tells you you can't.