Jada Pinkett Smith Revealed a Major Factor in Determining Hillary Clinton's Electability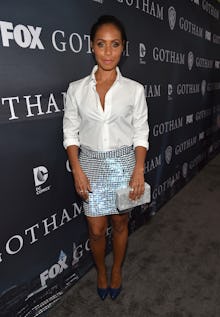 "When Hillary made her announcement," Jada Pinkett Smith wrote last month in a viral Facebook post titled "Race vs Gender," "I was more confused and anxious than excited. Her announcement conjured many old hurts and scars."
Pinkett Smith's Facebook missive articulates the questions many women of color have about Hillary Clinton, running to the core of racial tensions in America, as well as within the feminist community. "Hillary's announcement reminded me that the relationship between black and white women on the political platform has been deeply complicated, disappointing and painful," she wrote. "The only question I have been asking myself is if I'm suppose[d] to vote for Hillary because she is a woman; will she take us to the mountaintop with her, or will women of color once again be left out and left behind?" 
While electing the first female president of the United States is "an exciting idea," Pinkett Smith raised the point that "women of color and white women have been taking on the majority of their fights on the political platform on separate lines." The actress wonders, "Can Hillary Clinton change that legacy through her journey to become president? Because if she can... she would not only have my vote... but she would have my heart."
The trials in Clinton's path to the White House extend well beyond her personal abilities to create systemic change. But they are nevertheless challenges that ask Clinton and by extension her campaign, the Democratic Party and all white women, to value, listen and work to meet the needs of women of color. In this regard, they are opportunities to create substantive coalitions between white and non-white women. 
Pinkett Smith intimates that Clinton cannot bank on the blind support of half the population just because she is a woman. Given the fact that young black women outvoted their white peers by 11% in the last presidential election, and given that they overwhelmingly vote Democrat, Clinton's electoral success very much depends on energizing black female voters.
The unsung political juggernaut: A 2013 CIRCLE report pointed out that "young African-American women had the highest turnout of any gender or racial or ethnic group of young people" at those 2012 polls. The Center for American Progress noted that "women of color constitute more than half of vote-eligible people of color at 53% — 35 million eligible voters," and "represent 74% of the growth in eligible women voters since 2000." Black women make up a huge portion of that growth. In fact, the report stated, "in both 2008 and 2012, black women turned out in such large numbers ... they were a higher proportion of the electorate than of their share of the voting-eligible population."
Black women activists and feminists, like Zerlina Maxwell in a piece at Essence and Imani Gandy at RH Reality Check, have already called attention to the power of the black woman voter, and of women of color collectively, in determining Clinton's fate in the 2016 election. Maxwell contends Clinton needs "to make a consistent effort to connect with the women of color who are ready to make noise at the polls," while Gandy actually cautions that Clinton's overenthusiastic "white feminist superfans" will "tur[n] off" black women voters. "Women of color, and Black women in particular (because we have the strongest turnout among women of color)," Gandy argued, "could hand Clinton the White House on a silver platter. But not if she doesn't work for it. And that means addressing issues that uniquely face us." Those issues include quality health care and gender-based violence in minority communities. 
"Hillary, like any good candidate, has to demonstrate her understanding of the needs of this population," Georgia House Minority Leader Stacey Abrams told Maxwell. "I think being willing and able to have an authentic conversation with Black women will ensure that she and the African-American community have a meeting of the minds."
Abrams' recommendation for Clinton echoes the concerns Pinkett Smith voices in her Facebook post. If Clinton and her campaign can rise to the occasion, they have a real opportunity to transform the current feminist landscape, which has cloaked, but obvious, racial fault lines that continue to divide women. 
"To all my women friends of all colors and creeds, this is a great opportunity for healing and reconciliation," Pinkett Smith concludes, "let's woman up in the spirit of compassion to gain more understanding of one another and the issues we face. Let's get the conversation started."