These Entrepreneurs Just Invented the Greatest Vibrator of All Time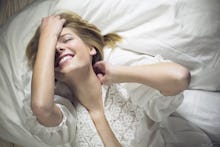 When it comes to pleasure, shouldn't women get exactly what they want?
That's the thinking of British-based sex toy company MysteryVibe. This week at TechCrunch's Disrupt 2015, the company is unveiling the Crescendo, the first vibrator that lets users change its shape and vibrations based on their desires and mood.
With a bendable form, six powerful motors and several options for vibrations and vibe combinations, the Crescendo vibrator looks to be the most customizable pleasure experience yet. In other words, one size of pleasure doesn't fit all.
"Pleasure is very personal," MysteryVibe founder Soumyadip Rakshit told Mic. "What we think was missing from sex toys is that personal human element ... the holistic thinking around the whole pleasure experience." 
Designed with women's unique and varied body types in mind, the Crescendo has no fixed form and can take on a variety of shapes. As Fast Company notes, it avoids the stereotypical dildo shape in an effort to offer "more subtle, playful, non-phallus-shaped toys for women."
Also customizable are the actual vibrations. With a "vibe store" available on the Mystery App, users can purchase or create customizable vibration patterns on their smartphones that sync to the six independently controlled motors.
"Think of it as an iPod, with the vibes as songs," Rakshit said.
What's the advantage of having a sex toy that you can bend and hack according to your mood? That versatility might be exactly what women's bodies crave. As Daniel Bergner pointed out in the New York Times, research has shown that female sexual desire responds favorably to novel stimuli. While a majority of women reportedly need some sort of clitoral stimulation to reach orgasm, others (anywhere from 7% to 30%) get off from vaginal and G-spot stimulation. That desire could change with partners, moods and days.
"We also found that predictable vibrations become less exciting over time," Rakshit said of the versatile vibrator.
The element of surprise may also function as its own turn-on, he says. "After a few uses you know what to expect, and it becomes like self-masturbation. Now, imagine if your partner was the one pleasing you — you don't know what to expect and that mystery leads to better climax, ergo MysteryVibe."
Though a 4GB memory full of vibration patterns and a Bluetooth-enabled app may seem intimidating to the tech-averse, Crescendo designers promise a seamless user experience during playtime. With a crowdfunding campaign for their pilot production, the MysteryVibe team hopes to launch the Crescendo line by November 2015. At every step of the way, customers' unique desires will be at the forefront of the minutely adjustable design — it's about empowering the women who use their products, the team said.
"We want to create objects and experiences where design and technology morph to become one with the human," Rakshit said. "We passionately believe in breaking taboos around sexuality and setting precedents."
Crescendo is just one is a series of new smart vibrators to make the experience of female pleasure — often overlooked in the bedroom — that much more sophisticated. This type of increasingly nuanced and customizable sex tech gets at one key component of sexuality and pleasure: Everyone is turned on by something different.