5 Quotes Show Why Mike Huckabee Is 2016's Most Dangerous Candidate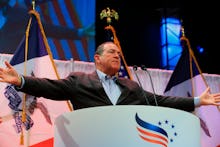 The other "man from Hope" has officially joined the increasingly thick 2016 Republican presidential primary contest. Former Arkansas Gov. Mike Huckabee — like former President Bill Clinton, another native of Hope, Arkansas — announced his bid from his hometown Tuesday morning. Huckabee is the third Republican to enter race in the last 36 hours, after Dr. Ben Carson and former Hewlett-Packard CEO Carly Fiorina announced their intentions on Monday.
Huckabee is a special political talent. He was elected president of the Southern Baptist Convention in 1989, having been a preacher since he was just 25 years old. By 1992, Huckabee was eyeing bigger pulpits, running for statewide office and winning a special election for lieutenant governor in 1993. Three years later, he became Arkansas' second Republican governor since 1971.
This is Huckabee's second campaign for president. His first, in 2008, was a surprise hit among conservatives, especially those on the religious right. He won the Iowa caucus and, though defeated handily the rest of the way, ended up with his own Fox News show. That gig is on hiatus now, as Huckabee — with a bass guitar, easy smile and some deeply felt homophobia and thinly veiled racism — launches another long-shot bid.
Though victory is far off, the gregarious former governor is poised to have an outsize effect on the tone of the contest. The more moderate candidates will now feel inclined to countenance his backward views — on the LGBT community, "traditional families" and the Islamic State group — a very dangerous proposition for a Republican Party always in danger of driving itself right off the road to the White House.
Here are a few of Huckabee's ugliest utterances:
1. On the effects of same-sex marriage
During a conference call to promote last week's "Stand for Marriage" event, Huckabee, riding shotgun to Tony Perkins, head of the Family Research Council, said, "Christian convictions are under attack as never before. Not just in our lifetime, but ever before in the history of this great nation. We are moving rapidly towards the criminalization of Christianity."
The Supreme Court's widely expected decision to strike down states' bans on same-sex marriage sometime in June will provide Huckabee with some fuel to spread on the dying embers of the debate. 
2. On birth control and "Uncle Sugar"
Speaking at the Republican National Committee's 2014 winter meetings, Huckabee made a typically charming case against Obamacare's contraception mandate. In a neat bit of pretzel logic, he argued, according to a Washington Post account, that support for requiring insurance providers provide birth control was an insult to the people who wanted it — that it implied a belief among Democrats that American women desperately wanted an "Uncle Sugar" to protect them from their unruly libidos.
3. On Beyoncé and her "pimp," Jay Z
In his recently released book, God, Guns, Grits and Gravy, Huckabee describes Beyoncé and Jay Z's 2014 Grammy Awards show performance as "foreplay," then shares his backward take on the dynamics of their marriage.
"Beyoncé is incredibly talented — gifted, in fact," Huckabee writes. "She has an exceptional set of pipes and can actually sing. She is a terrific dancer – without the explicit moves best left for the privacy of her bedroom. Jay Z is a very shrewd businessman, but I wonder: Does it occur to him that he is arguably crossing the line from husband to pimp by exploiting his wife as a sex object?"
Beyoncé and Jay Z, it should be noted, partake of the traditional marriage Huckabee is so keen to promote. Just how Jay Z becomes the "pimp" in this construction never becomes entirely clear. That said, a fuller explanation would undoubtedly plumb even scuzzier depths of the candidate's imagination. 
4. On border security, immigration and Ebola
During the Great American Ebola Scare of 2014, when thousands were dying in West Africa, Huckabee was among the dim lights seeking to stir domestic concerns about border security and the outbreak into a toxic political stew. 
Months later, with the much-anticipated U.S. Ebola panic having passed and the disease on the wane overseas, this craven alarmism is that much starker. Alas, this is kind of nonsense is what Huckabee trades on. Don't expect him to rewrite the playbook for 2016.
5. On why President Barack Obama is so "very different."
Huckabee isn't quite a birther, he's just fond of claiming that President Barack Obama "grew up" in Kenya, which — to the extent it matters — is not accurate. More importantly, comments suggesting that Obama's worldview was shaped during a few years of grade school in Indonesia, where his mother brought him and his sister after her remarriage, somehow creates an unconquerable otherness in him is creepy and less a racist dog whistle than foghorn. 
Expect more of this from Huckabee on the campaign trail. He will smile, charm and flatter. There will be lots of his bass guitar and goofy down-home jokes, but don't be fooled. Huckabee is 2016's most backward mind and, if he's allowed to influence the GOP debate, its most dangerous man.