Ryan Gosling's Touching Tribute to a Fan Will Break Your Heart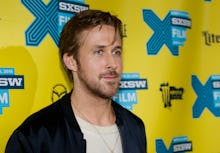 Ryan Gosling usually won't eat his cereal — but this time, he made an exception.
Ryan McHenry, the Scottish Viner who created the meme about a fictional, cereal-averse Gosling, passed away on Sunday from bone cancer. To pay tribute to McHenry's memory, Gosling posted his first Vine: a short video of himself eating cereal.
McHenry started the Vine series Ryan Gosling Won't Eat His Cereal after watching the star's film Drive, he told Entertainment Weekly. "I was watching Drive and eating cereal one day, and it kind of looked like Ryan Gosling was staring at my cereal," he said. After picking up his phone and filming himself unsuccessfully attempting to feed the actor, a meme was born.
In addition to his own Vine, Gosling also tweeted condolences Monday night, saying he felt "very lucky" to have had an impact on McHenry's life in any way.
This is only the latest instance of Gosling acknowledging his Internet infamy. In March, he laughed about the "Hey Girl" meme at South By Southwest in Austin, denything he ever actually said, "hey girl." Now, however, Gosling has acknowledged his online persona in a far more touching way.
Gosling's career may not be in the best shape right now, but he remains the person fans fell in love with years ago. Seeing him film such a lovely remembrance is a shining example of that.