The Met Gala Was All About Cultural Appropriation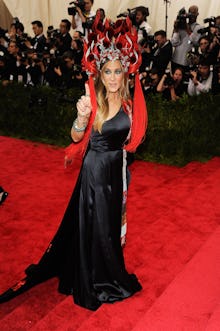 You can bet that when an elite Manhattan gala's theme is China: Through the Looking Glass, it will reveal more about America than it does about China. 
On Monday night, Vogue editor-in-chief Anna Wintour's annual fundraising party for the Metropolitan Museum of Modern Art — aka the Met Gala, a gathering of the biggest names in fashion and Hollywood — did just that.
How do you boil down a diverse culture to a few offensive stereotypes? You can, like Sarah Jessica Parker, pair a black dress with a flaming red, vaguely "Chinese" headpiece.
Perhaps it was at least crafted by a Chinese person? Negative. Irish hat designer Philip Treacy was behind the piece. 
But SJP wasn't the only one who dressed up as an entire nationality. There were plenty of embarrassing stereotypes on display at this year's ball. According to the Met Gala, China is about braids:
Dragons:
Kimonos:
And, of course, buns and chopsticks (and more dragons):
The fact that so many celebrities adopted stereotypical Chinese themes in their dress but that so few bothered to seek out designers from the country is also disconcerting. In fact, Rihanna was one of the only celebrities to actually wear a dress by a Chinese designer (in this case, coutourier Guo Pei). 
It's possible to pay homage to a culture without turning it into a costume. Cultures are complicated and intricate. Respectfully celebrating them doesn't involve cherry-picking disparate elements to spice up a look. Of course, celebrities doing just that wasn't exactly unexpected. According to Vogue, the night's theme was meant to "primarily examine how eastward-looking Westerners have understood and misunderstood Chinese culture." 
Indeed, many of last night's outfits didn't honor and represent China so much as exemplify Western stereotypes of it. Beyond being offensive, relying on symbols like dragons, braids and chopsticks to represent an entire culture is simply lazy. "The Met itself is acknowledging that these [images] have often been inaccurate or even based on problematic racial stereotypes such as the 'dragon lady' or 'China doll' tropes," Liz Flora, editor-in-chief of Jing Daily, told Fashionista. "If a designer draws inspiration from these tired stereotypes, they won't just look racially insensitive, they'll also come across as incredibly uncreative." 
The persistent Western appropriation of cultural tropes perpetuates fallacies about a population that is already treated as an "other" with Western society. This matters, especially when Chinese culture is located in a specific historical context that also includes a history of Western intrusion and imperialism, while Chinese individuals or Chinese-Americans still face racial discrimination in this country. 
The outfits at the Met Gala also matter in light of Hollywood's continued inability to properly represent Asian-Americans. Although they are one of the fastest rising populations in the United States, they remain sorely underrepresented in entertainment — unless they're being portrayed as prostitutes, ninjas or foreigners.
Hideous headpieces may seem harmless, but using them as a stand-in for Chinese culture isn't acceptable. Although the intention of the "looking glass" was to showcase China, the only thing it made visible were the flaws in ourselves.
For more on the lack of diversity and cultural appropriation in fashion, check out Mic's Flip the Script.