Islamic State Claims Responsibility for Texas Shooting at "Draw Muhammad" Contest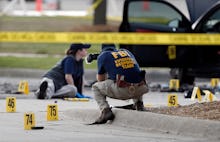 The Islamic State group claimed responsibility Tuesday via their official Albayan radio station for Sunday night's attack outside the Muhammad Art Exhibit and Cartoon Contest in Garland, Texas. If this is confirmed, it would mark Islamic State's first attack on U.S. soil.
The two suspects, Elton Simpson and Nadir Soofi, who lived in the same apartment, allegedly drove from Arizona to carry out the attack. They injured a security guard before both were shot dead on the scene. 
"We tell America that what is coming will be even bigger and more bitter, and that you will see the soldiers of the Islamic State do terrible things," Islamic State announced, according to a France 24 translation.
"We say to the defenders of the cross, the U.S., that future attacks are going to be harsher and worse. The Islamic State soldiers will inflict harm on you with the grace of God. The future is just around the corner," a CNN translation says.
The media is largely skeptical as to whether the Islamic State group's assertion can be founded as it "couldn't be independently confirmed," states the Wall Street Journal. 
Some have interpreted the announcement as nothing more than opportunism. "The Islamic State did not provide details and it was unclear whether the group was opportunistically claiming the attack as its own," reports Associated Press.
The art exhibit and cartoon contest was organized by the controversial American Freedom Defense Initiative, which is also referred to as Stop-Islamization of America and classified as an "active anti-Muslim group," by the Southern Poverty Law Center, according to NPR.
The contest was invariably incendiary as it is considered deeply blasphemous in Islam to produce images of prophets, including Muhammad, Jesus and Moses.
As of yet, the Islamic State group's responsibility for the attack is not confirmed. But if it is, these actions will up the ante in the United States' hands-off offensive against the intractable terrorist group, and there remains the very real possibility this will serve to intensify America's aggression toward the organization.