Rihanna's Met Gala Dress Made a Bold Statement — and Every Other Star Should Take Notes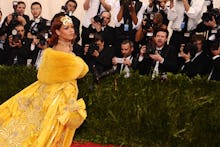 Yes, it might have looked like an omelet. Or a pizza. But really, Rihanna's 2015 Met Gala dress was making a statement that had nothing to do with food. 
The singer was one of the only celebrities to walk the Met Gala red carpet Monday night wearing a dress by a Chinese designer. Rihanna's outfit choice, a dramatic yellow dress-meets-coat by Chinese couturier Guo Pei, was fitting: The theme of the Metropolitan Museum of Art's new Costume Institute exhibit, which the Met Gala is intended to honor, is China: Through the Looking Glass, and the official dress code of the evening was "Chinese white tie," according to a Vogue rep, Fashionista reported.
On a night that invited stars to honor a culture yet seemingly dared them to misstep into cultural appropriation, most of the celebs played it safe with jewel tones, ornate gilt details, even some dragon prints and lotus flowers; very few of the gowns had Chinese names on the tags. 
Rihanna, on the other hand, demonstrated how to honor a culture that's not your own: Go straight to the source.
The risk of cultural appropriation: The Met Gala famously invites its guests to dress to honor the Costume Institute exhibit's theme each year. In 2014, the dress code was white tie to honor couturier Charles James, while 2013 saw celebs doing their best Sid Vicious impressions for a exhibit honoring punk's influence on fashion.
For this year's China theme, plenty of stars channeled the Far East with the aforementioned design details — reds and purples, ornate patterns, even a headpiece or two. Others honored China by wearing American designers with Chinese roots — Selena Gomez wore Vera Wang, while Zoe Kravitz and Miley Cyrus wore dresses by Alexander Wang.
But given the theme-dressing tradition, the premise was a risky one, something that at least the Met recognized. "China: Through the Looking Glass will primarily examine how Eastward-looking Westerners have understood and misunderstood Chinese culture in an exchange that [curator Andrew] Bolton likens to a complicated game of telephone," Vogue's Mark Guiducci wrote of the exhibit in September.
Moreover, as Fashionista noted ahead of the event, "When it comes to cultural appropriation and accidental racism, the fashion industry doesn't have the best track record." Knowing how to honor a cultural or ethnic tradition that's not your own can be like walking a tightrope, as so many in the fashion industry and Hollywood have found — just take Katy Perry, who was slammed for her "geisha-inspired" get-up at the 2013 American Music Awards, or Elle U.K. putting a Native American headdress on cover star Pharrell Williams or even Marie Claire touting Kendall Jenner's cornrow hairstyle as an "epic new level" when, in fact, black women have been wearing cornrows for years.
How to honor a culture that's not yours: The first fundamental of correctly borrowing from another culture involves admitting your inspiration comes from somewhere else (something missing in the many cornrows incidents). But beyond that, the key is to either take minimal inspiration (Vogue's Chloe Malle suggested "playing with prints and colors from the Ming Dynasty in China, incorporating jade jewelry or wearing colors like red and yellow, according to Fashionista) rather than don a head-to-toe costume. 
Or, better yet, go straight to the source. 
"I found it online," Rihanna told Vanity Fair on Monday's red carpet. "I was researching Chinese couture on the Internet and I found it." 
Explaining the dress' provenance to the reporters, she added, "It's Chinese couture and it's made by Guo Pei. It's handmade by one Chinese woman and it took her two years to make." Pei, in fact, has two dresses displayed in the Costume Institute exhibit. Based in Beijing, Pei has been designing for over a quarter-century, dressing Chinese stars like Li Bingbing and Zhang Ziyi, according to Vanity Fair online.
In other words, Rihanna honored China by actually wearing a dress by a Chinese designer based in Beijing. 
As Native American fashion researcher and blogger Jessica R. Metcalfe previously discussed with Mic, the best way to honor a culture is working with designers of that culture. Buy from them, or if you're inclined to make your own look, collaborate with them.
And when in doubt, do as Rihanna did and go straight to the source: Google it.