J.K. Rowling Just Gave the Best Advice Ever to a Fan in His Darkest Hour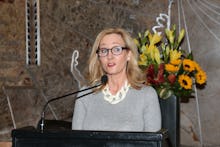 We've all been there. Those dark moments when we're consumed by existential crises and we can't find meaning in any of it, when we're so overwhelmed and we can't see the larger point in powering through. 
On Monday, a distressed fan turned to J.K. Rowling in his darkest hour, with the expectation of most likely being ignored.
"This may get lost in the noise... but what would you say to someone who has failed to find meaning and wants to finally give up?" @BrocaesarTV asked.
Rowling, being the badass she is, immediately offered the Twitter user, and any other readers, some solace.
Rowling has spoken openly about her own battle with depression, which was particularly bad in her twenties, when she was a single-mother living in poverty and trying to get Harry Potter published.
"We're talking suicidal thoughts here, we're not talking 'I'm a little bit miserable,'" Rowling told the Associated Press in a 2008 interview. "I have never been remotely ashamed of having been depressed. Never. What's to be ashamed of? I went through a really rough time and I am quite proud that I got out of that."
Rowling is known for her Twitter mastery these days, and she uses the social media platform for pithy quips that hold Rupert Murdoch and anti-gay users accountable for their bigotry. This time she used it to offer us all hope: Despite how bad it may feel, there is always something to look forward to.
Depression affects nearly 1 in 5 people in the United States, according to the Anxiety and Depression Association of America. But a feeling of hopelessness at some point or another is universal, so her words have the power to meaningfully impact anyone who hears them. That's real magic.
h/t Huffington Post