Watch the Viral Video That Just Got These Teenage Sisters Signed By Beyoncé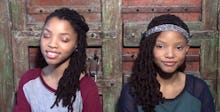 Chloe, 17, and Halle Bailey, 15, just lived every teenager's dream. The North Hollywood, California, sister act has been recording pop covers on YouTube since 2008. In 2013, inspired by Beyoncé's new album, they recorded a cover of "Pretty Hurts." It went viral, garnering over 8 million views. At least a few of those views came from Beyoncé's Parkwood Entertainment and Queen Bey herself. They were stunned. And recently, they offered the girls a potentially million-dollar deal. Pending a Judge's approval, the girls are signed to her label. 
This is the video that started it all:
The Bailey sisters: The sisters have beautiful and unique voices with a lot of character — not unlike Beyoncé herself. Before attempting to make names for themselves in music, they were memorizing lines on camera. Chloe acted in Tyler Perry's Meet the Browns, and Chloe and Halle both appeared in Last Holiday and Let It Shine. 
In the past few years they've played and sang several amazing covers, including Avicii's "Wake Me Up," Jay Z's "Holy Grail" with harmonized verses and John Legend's "All of Me," which has over 2 million views.
Because the girls are minors, they had to get their recording contracts approved by a judge. In the court papers, Douglas Bailey, the girls' father, wrote that the girls "worship" Beyoncé. "We cannot think of a better person to help guide the girls," Bailey wrote, according to Page Six.
The court papers also say Beyoncé will "personally, be actively involved in managing" the girls' careers, according to the N.Y. Daily News. They will likely need that support as their contract has them aiming put out up to six albums in the next five years.
Parkwood has also offered a contract to a third rising star — 16-year-old Upper East Side Manhattanite, Sophie Beem. Her claim to fame was reaching the X-Factor's top 40 in 2012 when she was 13. Her YouTube channel doesn't have any songs on it, but in 2013, she shared two of her original compositions at a TEDx Youth event.
The start of something: The three girls mark the first signees to Beyoncé's Parkwood Entertainment besides Beyoncé herself. Named after a street Beyoncé lived on as a young girl, she started the company in 2008 in an attempt to inspire other women to make waves in the industry.
"I felt like I wanted to follow the footsteps of Madonna and be a powerhouse and have my own empire and show other women when you get to this point in your career you don't have to go sign with someone else and share your money and your success — you do it yourself," she told Billboard of the venture, shortly after her company pulled off the game-changing surprise release of her self-titled record in December 2013.
In that interview, she said her next steps would be developing up-and-coming talent. "I just hope that I continue to move forward and challenge myself," she said. "Now that I've become a mother I just want my legacy to inspire people."
She will likely do so through the incredible talents she's found. She's about to become far more than a Queen; she's going to be a business, woman. And she's helping these young girls live an unbelievable dream. We expect great things — based on these videos and Beyoncé's track record, we won't be disappointed.
h/t Business Insider