McDonald's Wants to Be "Modern and Progressive," But Will It Work?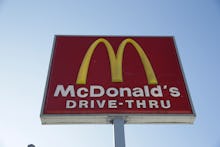 McDonald's is in bad shape. 
In the U.S., its sales have decreased for five quarters in a row, and its name has surfaced steadily in countless stories about poor worker treatment in recent years. Industry analysts who marvel at the rapid rise of fast casual chains like Chipotle look at McDonald's and see an empire in decline.    
On Monday, McDonald's announced an admission of its crisis and a plan to turn it around into a "modern and progressive burger company."
"No business or brand has a divine right to succeed, and the reality is our recent performance has been poor," McDonald's president and CEO Steve Easterbrook says in a video released Monday. "The numbers don't lie. Which is why, as we celebrate 60 years of McDonald's, I will not shy away from the urgent need to reset this business."
The plan: The thrust of the plan to mitigate the slump in sales centers on rethinking organizational structure. The corporation will rearrange the way it groups together restaurants across the world so as to ensure that similar restaurants are placed in the came category regardless of their region.  
It also plans on having a significantly greater portion of its restaurants become franchise-operated. Time has the details: 
It wants 90% of its restaurants globally to be franchised by 2018, up from 81% now, bucking an industrywide trend. That means 3,500 more restaurants will be run and owned by franchisees, up from a previously planned increase of 1,500 restaurants.
Easterbrook speaks in lofty terms about making the company more agile, less bureaucratic and more responsive to local customer demands, noting in his video that there should be "less sweeping talk of millennials." Will it work?
McDonalds is stuck: McDonald's has been doing plenty of experimentation in the past year to stop the bleeding, perhaps most notably menu tweaks such as all-day breakfast or more expensive burger options. The reality is that McDonald's is caught in a tricky place that likely won't be solved by these kinds of minor adjustments.
Industry observers have pinned McDonald's slide in popularity to its relative lack of popularity among younger consumers. As Mic has reported in the past:
Millennials tend to be more conscious of their consumption habits than other generations. Research shows that they prefer natural food, organic products, smaller corporations and rewarding socially responsible enterprises. They also place a higher value on experience and are more willing to invest in a pleasant meal that delivers that experience. McDonald's, a company that offers burgers that don't decompose and pays its employees abysmal wages, is an iconic inversion of the millennial sensibility.
So what's the solution? "Be more like Chipotle" is the most common proposition. Offer fresher ingredients and more customizability and allow customers to feel like health and convenience aren't mutually exclusive. 
But that's easier said than done. McDonald's has built an empire on the very kind of food that is on the wane. If it just discards its unhealthy options and starts using quality ingredients, its iconic menu will essentially be wiped clean. It would be a different restaurant, but it might become one that turns a profit again.