Miley Cyrus and Joan Jett Just Released a Badass Cover of 'Different' for the Best Reason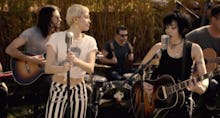 Last month, Miley Cyrus inducted Joan Jett into the Rock and Roll Hall of Fame, calling her a "badass babe," an "inspiration" and "superwoman." Cyrus said at the time that Jett dedicated time to an "upcoming project for my foundation, supporting the LGBT homeless youth." On Tuesday, we finally found out about that project in the best way possible.
Jett and Cyrus released a cover of Jett's iconic song "Different" on Tuesday. The video, which shows the singers trading verses, marks the official launch of Cyrus' new Happy Hippie Foundation. The charity will raise awareness and support for homeless youth, the LGBT youth community and other vulnerable populations. Being "different" never sounded so badass.
Cyrus released the video on her Facebook, along with a donation link to Happy Hippie.
"All humans have valid feelings and rights! I want to use my voice as a megaphone to young people everywhere and encourage human evolution," Cyrus said of the foundation in a statement. "No one should have to hide who they really are, no matter what his or her name, gender or status. That's why Happy Hippies are here to say that every life is valuable!" Hopefully, her video will mobilize her more than 47 million Facebook followers into a force for change.
That change is necessary. The Happy Hippie Foundation webpage shares statistics concerning our nation's 1.6 million homeless youth: "Forty percent of homeless youth identify as LGBT, and family rejection is the most common reason" for homelessness. About 1 in 3 transgender people have been denied shelter care. 
One of the foundation's first grants has allowed a Los Angeles partner, My Friend's Place, to provide homeless youth with 40,000 meals, 20,000 snacks and 40,000 pairs of underwear and socks, in addition to creative arts and animal companion programming.
Jett, the feminist icon, is fully behind the project. "I think what Miley's doing is wonderful and important to help people find their authentic selves," she told Rolling Stone. "I'm proud to be a part of it." Jett has engaged in her own share of activism, working with PETA and the Center for Reproductive Rights, among other causes. 
In her Rock and Roll Hall of Fame speech, Cyrus described how much Jett's activism inspired her while growing up: "She made the world evolve, her life and her success is proof that we can self-evolve. I want to thank you for fighting for our freedom, Joan, and I love you so much."
Jett is far from the only star Cyrus will tap for the project. Cyrus has similar "backyard sessions" lined up with Ariana Grande, Melanie Safka and Against Me!'s transgender lead singer Laura Jane Grace, according to Rolling Stone.
Say what you will about Cyrus — she knows how to use her celebrity to affect real change. She's learned from the best. We'll see if she can create the same impact as her idols going forward.