Making Isiah Thomas President of New York's WNBA Team Is a Huge Insult to Women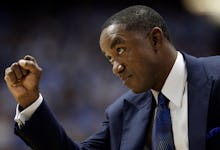 In a move that many are already calling the worst possible decision, former New York Knicks coach Isiah Thomas — who several years ago lost both an $11.6 million lawsuit on charges of sexual harassment and his job, for allegedly unrelated reasons —  has been hired as president of the WNBA team New York Liberty. 
Yes, you read that correctly.
James L. Dolan, executive chairman of Madison Square Gardens (which owns the Knicks and Liberty teams) and president and CEO of its parent company, Cablevision, made the announcement Tuesday. It's already attracting backlash.
Alongside his arguably abysmal basketball management record, Thomas sports an impressively bad track record with women. Back in 2007, Dolan fiercely defended Thomas in the widely publicized lawsuit brought by Anucha Browne Sanders, a former Knicks executive who alleged sexual harassment within the organization. Dolan fired Browne Sanders after she reported Thomas' misconduct. In what was described as "a landmark sexual harassment case," the court ruled in Browne Sanders' favor.
At the time, USA Today wrote:
"The harassment verdict was partly anticlimactic, because the jury had sent a note to the judge a day earlier indicating that it believed Thomas, the Garden and Dolan sexually harassed Browne Sanders, a former vice president for marketing. A 44-year-old former Northwestern University basketball star, she is a married mother of three.The jurors had heard Browne Sanders testify that Thomas, after arriving as team president in 2004, routinely addressed her as "bitch" and "ho" in outbursts over marketing commitments. He later did an abrupt about-face, declaring his love and suggesting an "off-site" liaison, she said."
And here's a helpful reminder of some of the worst parts of the lawsuit:
Though many assumed Thomas would have a difficult time rebounding from such a public settlement against him, he appears to be back in the spotlight, and this time with a women's organization no less.
A done deal? There is still a chance this won't be a complete victory for Thomas. According to WNBA President Laurel Richie, Thomas' appointment may still need approval from the WNBA Board of Governors.
While Thomas' appointment as organization president would not require board approval, his new position could also potentially entail part ownership of the team, which would trigger the approval process.
There are a multitude of reasons why, if this decision goes through, it would be a slap in the face to WNBA players, WNBA supporters and women across the country who have fought for equal rights. The most glaring these include Thomas' poor management skills, his dark history of sexual harassment and his racism, which apparently permeates the way he communicates. Dolan's latest recruitment effort is anything but a slam dunk.