Prom Is the Gender Role Olympics, But These Teens Are Fighting to Change That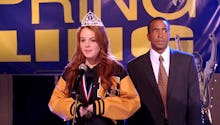 According to practically every high school-centric movie, prom is the pinnacle of the teen experience. It's become the symbolic moment when American youth transition from children bound by overbearing parents and schools to the impending freedom of (relative) adulthood. But prom is also the gender role Olympics.
Details like dress codes, dates and sex, to name a few, make prom an event that is undeniably mired in gender stereotypes and double standards. However, plenty of teens are refusing to accept the rules: 
1. They're questioning who gets to 'prompose.'
The idea that boys have the responsibility — and control — to determine their date while girls are expected to passively hope for an offer is emblematic in the prom tradition. As Huffington Post Teen blogger Celeste Yim wrote in 2014, the "uncertainty of being or not being asked" to prom "is a primal denial of my girl friends' integrity."
Beyond the old-school gender norms, boys face serious pressure for asking, both emotionally and financially. The "promposal" (a term coined, according to the Washington Post, in 2001 when the Dallas Morning News used the word in a report on one over-the-top prom proposition) is not just elaborate, but costly. In fact, according to USA Today, the average promposal will cost $324 this year.
But high school girls like Yim will not be shut out of the process. "I challenge my lovely lady classmates and fellow female seniors across the land to stop waiting around for some dude to give you something you want," she wrote. "Go get it like the independent and powerful woman you are!" She then put her words to action and concluded her post by promposing to her male friend (who, of course, accepted).
2. They're rejecting the traditional, heterosexist model of a prom couple.
How many times have we heard of kids who couldn't go to their prom with their high school sweetheart, just because they shared the same gender? While the prom tradition was established in the early 20th century, it wasn't until 1979 that a same-sex couple was allowed to attend a Sioux Falls, South Dakota prom.
Decades later, plenty of schools still frown upon or ban same-sex couples from attending prom together. Mississippi high school student Constance McMillen successfully sued her school district in 2010 after they told her she'd be barred from the prom if she brought her girlfriend as her date. A group in Indiana actively petitioned for a 'gay-free' prom in 2013. One Alabama high school only lifted their same-sex couple ban last year.
However, progress on this front is undeniable as the stories of LGBT and gender-nonconforming prom attendees gain greater visibility. More stories of LGBT couples happily attending prom — like West Virginia high school athletes Michael Martin and Logan Westrope, or straight Nevada student Jacob Lescenski who asked his gay best friend Anthony Martinez to the prom — have given people everywhere the warm fuzzies. 
3. Women are refusing to allow their bodies to be constantly policed.
There's plenty of interest in limiting the sexual activity of high school students: More than $1.5 billion in federal and state funding has gone to abstinence-only sex education since 1997, according to the organization Advocates for Youth. Prom seems to be the ultimate opportunity for school administrations to keep tabs on the supposed purity of their students, especially female students.
One Wisconsin high school, for example, recently hung a poster for prom featuring the slogan, "A Night to Protect Her Character" above the silhouette of a young woman in a gown. "It's basically just saying your character depends on whether or not you have sex," one student who raised concerns over the poster to her principal told Mashable. "And if you have sex, you won't have any character."
In addition to trying to curb sex, prom brings the gendered double standard at the heart of generally sexist school dress codes to another level. Administrators frequently slut-shame female students for their prom attire in a way their male counterparts simply are not. Alexus Miller-Wigfall, a high school student in Pennsylvania, recently experienced this first-hand when she was suspended for a prom dress that was deemed "too revealing" by her administration despite being full-length and having long sleeves.
Some teens, like Claudetteia Love, a Louisiana honor roll student, are fighting these stereotypes. She successfully won the right to wear a tuxedo to prom instead of a dress. "I feel like I stood up for something I felt which wasn't right," she told Today in April. "Now later on, other people won't have a problem with it. It won't be an issue. It won't make people feel bad."
The stereotypical, damaging traditions at the heart of prom may largely persist. But thanks to teens like these, who are fighting to create inclusive proms, the events are starting to truly realize their purported mission: To celebrate the accomplishments of attendees and send them off into the world, ready to launch a meaningful life of their own.