Read Sheryl Sandberg's Touching Tribute to Her Late Husband, Posted on Facebook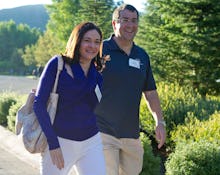 Days after her husband's death, Sheryl Sandberg has opened up on Facebook to honor his memory — and their partnership.
Dave Goldberg, the 47-year-old CEO of SurveyMonkey and Sandberg's husband of 11 years, died last weekend from an exercise accident while vacationing in Mexico. While Goldberg was an entrepreneur and chief executive, he was also a star character in Lean In, his wife's best-seller on female success, as a constant support and key player in Sandberg's own career path.
In a note posted to Facebook on Tuesday evening, Sandberg beautifully articulated just how powerful and important their partnership was: 
"The truest partnership": Sandberg and Goldberg's marriage wasn't just full of love, but also dynamic, constant support. That that support should never be underrated is a signature Sandberg principle; in fact, one chapter of Lean In is entitled "Make Your Partner a Real Partner."
"I truly believe that the single most important career decision that a woman makes is whether she will have a life partner and who that partner is," she wrote in the landmark 2013 book. "I don't know of a single woman in a leadership position whose life partner is not fully — and I mean fully — supportive of her career. No exceptions."
Having "work-life balance" doesn't mean siloing your professional life from your personal one, Sandberg has taught, but rather creating a "life" that supports the work, filled with people who value your career and want to see you — and help you — succeed. A true partner is fundamental to the "work" part as much as the "life," and Goldberg epitomized that role.
"Even strangers ... knew of him as the living, breathing, car-pooling center of a new philosophy of two-career marriage," the New York Times' Jodi Kantor wrote of Goldberg. Thanks to Sandberg's touching note, millions more will be able to honor the kind of beautiful partnership Goldberg and Sandberg had and that so many others aspire to.