Watch Jimmy Fallon Bring U2 to the NYC Subway for a Surprise Performance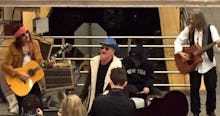 U2 is full of surprises lately. On Monday, the legendary band took over a New York subway platform for a surprise performance. Disguised as just your everyday buskers, Bono donned a blonde goatee and blue cowboy hat, while Edge wore a flowing wig with a bandana. But it didn't take long before they lost the disguises and attracted a sizable crowd who caught the performance on their phones.
While U2 performed "Angel of Harlem" in the Grand Central subway stop, onlookers stopped mid-commute to catch the impromptu concert. The boys' surprise show was filmed for The Tonight Show Starring Jimmy Fallon as a sort of triumphant return to New York. Last November, U2 had to pull out of a week-long residency on the show because of Bono's infamous Central Park biking accident. The band promised to make up for it, and they did just that. 
Here's U2 before they lost the disguises. Along with an undercover Bono and Edge, bassist Adam Clayton wore a pretty dirty-looking wig, and drummer Larry Mullen Jr. went incognito hunkered over plastic tubs.
Once the band revealed themselves, even the MTA had to stop for a look.
The band got up-close and personal with their fans during the show.
There's no word yet on whether this will air on Fallon, but based on the scenes they've been filming around New York, it looks like the host and Bono are working on a sketch about Bono's bike accident. Laughter is the best medicine.