In One Video, Anna Kendrick Expresses Your Deepest and Weirdest Shower Thoughts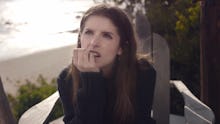 Ever have weird thoughts in the shower? Something nonsensical and spaced-out, like "Will Ferrell and Pharrell Williams have reverse names"? Anna Kendrick knows how you feel. She has those thoughts too, and she hears yours.
In a cute video for Glamour magazine, the cover of which Kendrick graces this month, the Pitch Perfect 2 star thinks some shower thoughts on the beach — some hers, some from others as found on the massive Internet forum Reddit. Among the insights she shares: "They should announce a sequel to Groundhog Day, and then just re-release the original." Not a bad idea.
There's a certain quality to Kendrick that makes her perfect for goofy stuff like this. She can certainly nail a conventional TV interview — she's charming in spades. Yet her connection to the Internet, from loving Reddit to her massive Twitter following, allows her to step outside the routine press tour box. She took over Elle magazine's social media accounts for a shoot last year. It gives a new dimension to her public persona.
More than that, said persona works largely because Kendrick has such a down-to-earth quality. She's very much in the same place Jennifer Lawrence was a couple years ago, though she's not as ubiquitous, thanks to the Pitch Perfect franchise being smaller than The Hunger Games. She'll also likely avoid an Anne Hathaway-style backlash  because she doesn't read as earnest. 
In other words, Kendrick has found the right tone of self-parody mixed with Internet savvy. She's not the cliché "girl you want to have a beer with" — she's the person you want to play a board game like Settlers of Catan with on Friday night.
Luckily, Kendrick probably won't psych herself out thinking of all her potential. She's too busy thinking shower thoughts — and being totally adorable while doing it.
Watch the full clip below.