Miley Cyrus Dyed Her Armpits Pink For The Best Reason Possible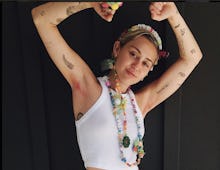 There are layers of symbolism behind Miley Cyrus's decision to dye her armpits pink. Knowing that her celebrity attracts attention (as does any woman's body that eschews gender ideals), Cyrus dyed her impressively lengthy armpit hair pink to raise awareness for her new nonprofit venture, the Happy Hippie Foundation, which "provides homeless youth, LGBT youth and other vulnerable youth populations with consistent support services, education and employment opportunities."
"The pink pits are saying, 'Don't tell me what to do,'" Cyrus explained to the Associated Press in an interview. "I'm not just saying you be yourself and I'm going to go be Miley Cyrus. I'm saying I'm going to be my (expletive) self, too."
With more than 1.6 million homeless youth in America — 40% of whom identify as LGBT — Cyrus's literally hair-brained strategy is genius, and deserves to be celebrated.
As Mic reported yesterday, Cyrus launched the Happy Hippie Foundation through a video release of a joint performance with Joan Jett of the rock legend's "Different." "All humans have valid feelings and rights! I want to use my voice as a megaphone to young people everywhere and encourage human evolution," Cyrus said in a statement. 
"I think what Miley's doing is wonderful and important to help people find their authentic selves," Jett told Rolling Stone. "I'm proud to be a part of it."
This is not the first time Cyrus has used her fame with a mindset toward equality, especially for the LGBT community. Last August she used the stage at the VMAs to raise attention about youth homelessness; more recently, on Twitter and Instagram, she called out Indiana Gov. Mike Pence about the state's bigoted "religious freedom" law.
"When you have all eyes on you, what are you saying? And that's what I had to ask myself a lot," she told the AP. "It's like, I know you're going to look at me more if my (breasts) are out, so look at me. And then I'm going to tell you about my foundation for an hour and totally hustle you."
h/t AP