Watch Christiano Ronaldo Be the Perfect Hero for a Japanese Boy Trying to Speak Portugese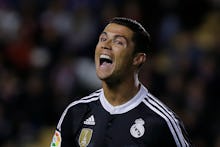 There's now one more reason to love Portuguese soccer star Cristiano Ronaldo. 
Video from a Q&A session Ronaldo had in Japan last year resurfaced online this week. In the footage, Ronaldo somehow found himself in the awkward position of listening to a young fan attempting to ask a question in Ronaldo's native language.  
But when Japanese audience members started snickering at the boy's lackluster yet admirable attempt, Ronaldo had enough. 
As anyone who took AP French in high school might remember, it's tough learning a foreign language. For Japanese students, already expected to master English, Portuguese is an exceptionally exotic challenge, sharing little with either of the first two. Unsurprisingly, after their public scolding, the crowd quickly warmed to the attempt and broke into applause.
Many online commentators noted Ronaldo's classy move contrasted starkly with his more outrageous behavior on the soccer field. British tabloid the Mirror called his public persona "more petulant than a spoiled four-year-old." But, as the Japan video shows, there are two sides to every coin.
At the end of the day, it's a lot easier to chuckle from the peanut gallery than to get out and do something. Rather than jeering laughter, Ronaldo's smackdown deserves everyone's full-force applause.   
h/t BuzzFeed