Real-Life 'Shawshank Redemption' Ends With Man Caught 56 Years After Prison Break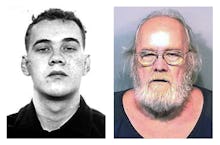 A man convicted of manslaughter following a car accident in 1957 and who escaped from the Ohio State Reformatory two years later has finally been apprehended, nearly 60 years after his dramatic prison break living in Florida.
Frank Freshwaters, who CNN reports is now 79, spent the intervening years moving from state to state and working as a truck driver. His tale bears more than a few resemblances to Tim Robbins' character Andy Dufresne from acclaimed 1994 film The Shawshank Redemption, in which Dufresne similarly escapes from prison after being convicted of a fatal crime (though Dufresne was innocent).
The similarities abound: While the movie was set in Maine, it was filmed at the same Ohio prison where Freshwaters served much of his time behind bars. According to CNN, like the movie character, Freshwaters escaped by using the trust he earned with prison officials as a way to cover his escape. While The Shawshank Redemption escape involved a tunnel system dug over the course of two decades, Freshwaters ingratiated himself with prison authorities and earned a transfer to a low-security "honor farm," from which he was easily able to escape.
According to the Associated Press, Freshwaters' original sentence of one to 20 years was suspended by the courts, but he was sent to prison in 1959 after violating the terms of his probation. West Virginia authorities arrested him on allegations that he threatened his ex-wife in 1975, but the state refused to extradite him. Freshwaters eventually found his way to Florida, where he obtained a fake ID and even collected Social Security payments under his assumed name.
Robbins' character eventually settled in sunny Zihuatanejo, Mexico, far from the reach of American authorities. While it was quite unlike the beautiful beaches of Mexico, U.S. Marshals Service Maj. Tod Goodyear told the Associated Press Freshwaters' Florida hideaway was "nice place to kind of hang out by yourself if you don't want people to know you're there."
Freshwaters, apparently, agreed with the famous line from the film: "Get busy living, or get busy dying." But unlike the ending of the movie, this tale ends with someone going back to prison. According to the Associated Press, the Freshwaters waived the extradition process and will probably be sent to Ohio to serve the remaining 18 years of his sentence.