If Outdated Gender Norms Were Thrown Out the Window, This Is What Prom Would Look Like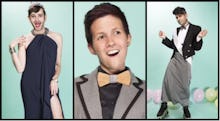 Prom night is supposed to be one of the most joyous occasions in a young person's life. Unfortunately, for some, it comes with added pressure to fit into strict, gendered dress codes. 
In a new video for MTV News, a group of trans and gender nonconforming adults got the chance to revisit prom — minus the dress codes — and wear what affirms and celebrates who they are. They also shared what would've made their high school prom nights much more welcoming. 
"As someone who is very much in between, prom was difficult for me," Jacob Tobia told MTV News. "I didn't know how I could express myself in a way that could make me feel both safe and happy, so I just ended up wearing a tux."
It really doesn't have to be this way. 
More than a fashion choice. For many trans and gender nonconforming high school students, prom dress codes present a real problem. Some school administrators still force students to show up dressed according to their birth-assigned sex: If school documents say you're male, you wear a tux, and if they say you're female, you show up in a gown. In the process, they preclude students with a diverse range of gender identities and expressions from celebrating in outfits that would would help them feel comfortable.
Prom should celebrate everyone. "High school wasn't defined by prom," Renee Reopell told MTV News. "Rather, it was defined by those rare gems of friendship who were able to truly see who I was and gently encourage me to embrace that person in my own time and space. The people defined high school, not prom."
When students are locked into gender norms, the clothing defines the evening instead of the experience. That was almost the case for Claudetteia Love, a high school student from Monroe, Louisiana, who identifies as a lesbian. As Mic noted in early April, Love planned to wear a tux to her high school's prom, but the school's dress code determined "all girls will wear prom dresses." Higher-ups from the school district had to intervene to get Love's principal to change course.
As Alok Vaid-Menon told MTV News, "What you are, what you feel, how you dress is totally legitimate. And you shouldn't ever have to feel like you have to be something you're not."
Here's to a prom night everyone can enjoy and happily remember. Check out the interactive feature, "It's Our Prom: A Night to De-Gender," here.