Florida Woman Escapes Hostage Situation With Order From Pizza Hut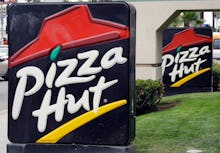 A woman in Highlands County, Florida, devised a clever way to defuse an apparent hostage situation in her home with nothing more than a Pizza Hut receipt, possibly making it the most Florida story to appear this week. 
Cheryl Treadway was being held hostage in her own home by her boyfriend when she managed to call for help via a note attached to an online order to a local Pizza Hut. Treadway wrote in the order's comment box that she and her children were being held hostage and she needed 911, WCHS6 Florida reported. 
"Please help. Get 911 to me," the receipt read. Further down, it added "911hostage help!"
Lt. Curtis Ludden, a hostage negotiator from the local sheriff's office, arrived on the scene shortly after 911 was called, and told local media he was stunned by Treadway's ingenuity.  
After 20 minutes, Ludden managed to talk the hostage taker, Ethan Nickerson, out of the house. Nickerson had been armed with a knife and had been behaving erratically. Nickerson, who was also Treadway's boyfriend and the father of her two children, was subsequently arrested without incident. 
The story underlines the serious and widespread problem of domestic abuse in the United States. Nationally, 1 in 4 women will experience some form of domestic violence in her lifetime, the advocacy group Safe Horizon reports. 
As the always enlightening folks at BroBible point out, Pizza Hut is usually reserved for when "you've drank or smoked too much and have made the decision to punish your body." As such, most stories that involve Pizza Hut typically focus on how the food will send their customers to early graves. Cheryl Treadway's extraordinary story flips that script, and hopefully will give fans of the chain some much deserved good news.