Take a Tour of the Gorgeous Luxury Hotel Owned and Operated by the Islamic State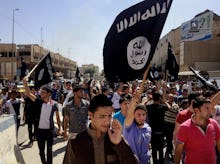 It's not easy being a fighter for the Islamic State group.
Months of unrelenting bombing raids coupled with the everyday challenges of keeping the faithful in line can take a toll on anyone. Now, however, the organization has found a way for its members to take in some serious R&R. The Ninawa International Hotel, now being run by the Islamic State group, is designed to cater to elite cadres of the extremist group, and it might just be the most luxurious hotel in hell. 
According to the Russian news service RT, the hotel underwent a significant renovation before a grand reopening celebration on May 1. Muslims were reportedly allowed to attend the event at no charge. The atmosphere was festive, as these colorful balloons attest. 
As part of the reopening, the building received a full face-lift, which allegedly included stonemasons ensuring strict Islamic propriety by removing blasphemous decorations from the hotel's exterior facade.
Patrons looking for a load off could also take in a refreshing juice or water at the handsome hotel bar. Naturally, however, no alcohol was served, as its consumption in Islamic State-controlled territory can result in 80 lashes.   
American bombing campaign? That's not enough to damage these manicured hedges:
Or this pristine lobby:
The swanky new accommodations for visitors are another addition to the Islamic State propaganda campaign aimed at showing the world it's about more than just beheadings and mass murder. The 262-room hotel in the conquered Iraqi city of Mosul reportedly boasts two restaurants, two ballrooms and a gym, the Independent reports. After the raucous May Day festivities, the hotel didn't miss a beat, seemingly returning to its typical buzzing atmosphere. 
Obviously, living under Islamic State control is a dystopian nightmare, and the goal of the hotel is more about burnishing its international image than about providing top quality customer service to guests. Despite its famously gruesome tactics, the Islamic State group has proven remarkably adept at persuading people around the world to pack up their lives and join its ranks. In September 2014, the European Union estimated 3,000 of its citizens had left to join the organization, while reports of Islamic State recruits in the United States have become an almost weekly occurrence. Earlier this week, the group claimed responsibility for a shooting in Texas in what would be their first attack on U.S. soil.
So far, it is unclear whether Ninawa will become a tourist hot spot. Hotel staff could not be reached for comment.