The Biggest Relationship Challenge for Couples We're Not Talking About: Grad School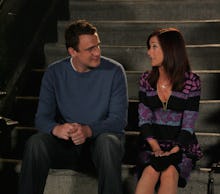 All it took was a stack of papers.
Sadie*, 26, had asked her boyfriend Mark to print out one of her grad school assignments at his office. He did, then accidentally forgot to bring the stack home. Sadie responded by bursting into tears.
The scene, she told Mic, was her relationship meeting peak grad school. 
Grad school is hard enough on your own, but tackling law school, med school or other higher degrees while managing a relationship with another person invites a unique set of challenges: uneven bank accounts, relocating, stunted social lives, deferred plans of marriage. For young couples, grad school is one of the first serious instances of sacrifice, negotiation and the balancing of competing priorities — making it one of the most transformative milestones we rarely talk about. 
A lifestyle overhaul: Balancing graduate school and relationships is a modern challenge. Millennials are more likely to go to grad school than any other generation, according to a report from the Council of Economic Advisers: Among 18- to 34-year-olds, graduate school enrollment in 2005 saw an increase of 35% over 10 years.
As any student knows, attending grad school and working a day job (even a demanding one) just aren't the same. Many students report spending two to three times the amount of hours studying than they do in class, which doesn't include hours spent working as teaching assistants, research assistants, fellows and externs. Add into that the time spent traveling (hello, business school) and in the lab (we see you, MD-PhDs). Then there's the constant low-level stress of always "being able to do work," while the rest of the world gets to clock in and clock out.
"Most enduring relationships require a measure of time and attention, yet graduate school nibbles away at the graduate student's schedule like Pez," Les Andrist, who has been through the experience, writes on his sociology blog. "It liquefies the grey matter involved in attention — like the brain-on-drugs egg in those commercials from the Reagan administration."
Sadie, who's getting her doctorate in clinical psychology, confirms the reality. "My relationship went through a lot thanks to [being] long-distance in college, but grad school is another level," she said. "We are definitely tied to my school schedule in terms of trips, adventures on weekends, going out during the week."
The big green burden: The other short-term shock for couples? Money. The most expensive grad programs in the country can cost students anywhere from about $71,000 to $98,000 a year, a burden usually accompanied by a sudden loss of income.
Like many millennials, Sadie is shouldering the costs of her doctorate degree in clinical psychology with a mix of student loans, her parents' help and her own savings. "My boyfriend definitely picks up the tab more on things like dinners and when we go out of town for various things, which I absolutely appreciate," she told Mic.
But it's an awkward tightrope to navigate if one person is footing the bills, paying for vacations and acting as the de facto funder for nightlife activities. That strain can intensify for students facing statistically crappier degree-to-job transitions — 20-somethings studying journalism, library science and history aren't exactly looking at a major payday once they get those masters degree.
With money being cited as one of the most common source of fights between couples, dating someone in grad school requires constant reminders that their financial situation (or lack thereof) isn't permanent. 
Major moves for one person: For Haley, 26, her boyfriend's graduate schooling has actually made her the less financially stable one. She gave up a high-powered job in New York City to move to Denmark so Eric, 25, could finish his medical degree there.
"He's got such an amazing situation here in Denmark that it wasn't even a viable option to ask him to move, at least not now," Haley told Mic. "I was in a more flexible part of my life, where I wasn't sure how I wanted to continue my career, so I decided to take a chance and move to his part of the world."
In that way, grad school poses an existential challenge for couples, in which one person's future seemingly makes bigger demands than the other's — determining where a couple lives, when they can move, when they might have kids or when they will change careers. It can even delay marriage; a 2012 report from IHS Global Insight suggested that the rising student loan debt may be another reason why graduates are delaying marriages, as Bloomberg reports. The enormous time and financial strain of grad school is pushing away images of rings and strollers for lit reviews and conferences.
"It's always loomed over us," said Haley, who knew about Eric's medical school plan for the day they met. While Haley would like to move back to the U.S. and continue pursuing her education, she said, "Eric is on track to graduate in 2016, after which he has three years in Denmark to begin specialty training."
Todd, 29, and his wife Maria, who's getting her doctorate in clinical psychology, have also juggled professional priorities. The couple talked briefly about moving to the West Coast, where Todd might have more job opportunities (and a change of scenery), he told Mic. But when Maria mainly applied to grad programs in New York, they realized the idea of two cross-country moves in one year was just unrealistic.
Getting a master's in relationships: The grad school challenge can break some couples up, as happened to Adam and Hannah in one of the more realistic plot lines of Girls. But plenty of real-life couples find that weathering the academic storm takes what they have to the next — very adult — level. All the negotiating and sacrifice can be highly instructive for couples who foresee a long future together — marriage, children, even more compromise. 
"Graduate school can also provide a couple with an opportunity to get closer and build intimacy, because it, like all external challenges and circumstances, can be the fuel for internal healing and development," Matt Helm, the director of graduate student life and wellness at Michigan State University, writes for the school's website.
While Sadie and Mark had already been dating for six years before she started grad school, she feels her relationship has been stronger in the past two years. "I have learned to value our time together so much, and I have really learned what it means to support another person emotionally," she said. 
What's rewarding about grad school — the accelerated life changes, the major time-suck, the intense decision-making — is that partners who make it through succeed because they validate one another's life choices. Grad school tests modern couples in ways they can't even anticipate, but ultimately it can make love smarter.
* Names have been changed to allow subjects to speak freely on private matters.