13 Stand-Up Specials on Netflix You Need to Watch ASAP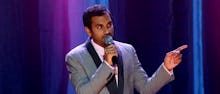 Getting bored of watching Frank Underwood force his way to the top in a Foghorn Leghorn accent on House of Cards? Run out of dramatic movies with strong female leads to watch? There's a treasure trove of laughs on Netflix you probably have never accessed. We're talking about stand-up specials.
These specials feature everyone from the famous (Eddie Murphy) to the relatively unknown (Anjelah Johnson) doing some of their finest work. Where to begin, you ask? We've collected 13 of the funniest to get you started.
Louis C.K.: Chewed Up
Want to be able to say you knew about Louis C.K. before Louie made him big? Though time travel doesn't exist, Netflix has his 2008 stand-up that features his famous "faggot" bit, and it's every bit worth your time.
Women Who Kill
Consider the 2012 Women Who Kill special a four-for-one. Not only does it feature comedy sensation Amy Schumer in her pre-breakout days, but you also get sets from Nikki Glaser, Rachel Feinstein and Marina Franklin. Quite the bang for your Netflix buck.
John Mulaney: New in Town
If you need to have your faith restored in the onetime Saturday Night Live writer whose show Mulaney was a bit of a mess, check out his 2012 stand-up special, where the comedian seems much more in his element, telling casual stories with alarmingly funny observations. You never knew how many feelings you could have on Home Alone 2.
Chelsea Peretti: One of the Greats
She's beloved for her work on Brooklyn Nine-Nine as ditzy-yet-secretly-savvy assistant Gina Linetti. In this 2014 special, Peretti applies the secret sauce that goes into the creation of Gina. Bonus fun fact: Did you know Chelsea is the sister of BuzzFeed founder Jonah Peretti?
Donald Glover: Weirdo
Childish Gambino. Troy Barnes. Donald Glover has a couple of iconic identities. Yet in this 2012 special, it quickly becomes clear what a, well, Weirdo he really is. Of particular note: his story of routine disappointment as a kid over going to Home Depot.
Zach Galifianakis: Live at the Purple Onion
You may love Galifianakis from his appearances in the Hangover movies, but his work in this special is a whole other side of him. This is the mad genius that created Between Two Ferns. Prepare to be blown away by his ambitious, unusual stand-up set from 2005 with a mix of onstage hilarity peppered with piano-playing and "behind the scenes" sketches that showcase Galifianakis' unique brand of comedy.
Problem Child: Leslie Jones
Long before she joined the writers' room (and eventually the cast) of Saturday Night Live, Leslie Jones stretched her stand-up muscles in this special from 2009. It's got all the ingredients of the woman who would go on to join the cast of the female Ghostbusters, but in perhaps even rawer, realer form.
Aziz Ansari: Dangerously Delicious
Parks and Recreation's Aziz Ansari has quite a few stand-up sets on Netflix, but this one stands above the rest as some of his finest work. The special, released in 2012, showcases a younger Ansari still making jokes about lighter subjects like dating, porn and the amazing thing that happens when 50 Cent orders a grapefruit soda.
Joan Rivers: Don't Start with Me
Rest in peace, Joan. This 2012 special features the queen at her most cutting. On Angelina Jolie: "'If I could just make one person happy with my charity works, I'll die content,'" she says in an imitation. "I thought, 'Easy. Give Jennifer Aniston back the husband.'" 
Anjelah Johnson: That's How We Do It
The Latina comic is perhaps best known for her MadTV character Bon Qui Qui, a fast food employee with an attitude. But her 2009 stand-up special shows a broader range for the comedienne and onetime Oakland Raiders cheerleader — a change she jokes about freely.
Jim Gaffigan: Beyond the Pale
This triple-threat comedian/actor/author is instantly recognizable — he's been a side character in what seems like everything. In his side-splitting 2005 special, he takes center stage, talking about everything from the bliss of doing nothing to Hot Pockets.
Bo Burnham: what.
The incredibly young and incredibly popular Burnham made his name on YouTube, but has expanded both into the Internet (on platforms like Vine) and out of it. This 2013 special is more of a one-man show, complete with musical performances to boot.
Eddie Murphy: Delirious
A true classic, this 1983 special stars Eddie Murphy in his iconic orange suit spitting some of the best jokes of his career. It's hilariously profane and truly genius, just like you'd expect of the former Saturday Night Live cast member-turned-comedy giant. Plus, he says "fuck" 230 times.