Three Badass Japanese Women Are Shattering Stereotypes About Asian Musicians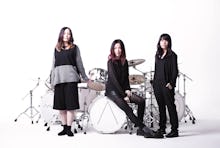 The thought of Japanese music usually conjures images of taiko drums, or more contemporary styles like radio-friendly J-pop. Stereotypes about Asian music writ large are a bit more pernicious — classical music and caricatures like "Gangnam Style" and "Kung Fu Fighting" remain dominant in the cultural imagination. But three Japanese women are on the path to change people's perceptions of Japanese music, and they're doing it with guitars in their hands. 
Tricot (pronounced "tree-ko") are a three-piece rock band from Kyoto, featuring Ikkyu Nakajima on lead vocals and guitar, Hiromi Sagane on bass and Motoko Kida on guitar. The badass women released their sophomore album, AND, in March, a follow-up their 2013 full-length debut, THE. Tricot have been gaining attention online since their latest release and caught a big break. Days after Instagram launched its music channel, Tricot were the second featured musician, behind only the Roots. No one was more surprised than Tricot, who called it "unbelievable" on their Facebook page.
But when you hear Tricot rock, their big moment is totally believable. These women are going to be huge.
Tricot are a far cry from traditional Japanese music or bubblegum J-pop. They play intricate math rock with almost velvety vocals over hard-hitting, interlocking guitar parts. And they have so much energy it's impossible to tear your eyes away. That energy is based, largely, on the trio's unbreakable bond.
Nakajima and Kida grew up together in Shiga, a suburb of Kyoto. They were in the school band but didn't play together until three years after their graduation, when they formed Tricot with Sagane. Sagane grew up in Kyoto, and didn't even pick up the bass until her senior year of high school. The three were in different bands until 2010, when they were 21, at which point they formed Tricot.
Tricot has a big sound from its steadfast core. They went through a number of drummers since they formed, and the process has only revealed to them the power of their chemistry. They are a sufficient unit, perfectly in sync artistically. They started out with no drummer, but soon brought onboard percussionist Komaki. He left the band recently, just before the band started working on their second album.
"Tricot was originally formed by the three of us and there were many things only we could understand and share," Nakajima told NME. For their latest album, Tricot recruited a handful of drummers for guest spots. "When we went back to being a trio, we realized we had the freedom to work with whichever drummers we wanted to. We had certain people in mind for certain tracks," Sagane told Instagram. The shifting lineup offered opportunities for a different sound on each track.
Taking on stereotypes: Tricot defies two sets of stereotypes. The first is the one of Asian musicians — that they focus solely on classical music and don't often gravitate toward rock. Tricot are also challenging stereotypes of female musicians. It's an unfortunate rarity in the music world to come across women who specialize in math rock, a genre that All Music defines as "dense and complex, filled with difficult time signatures and intertwining phrases." There are always, exceptions — Marnie Stern, Rolo Tomassi or Deerhoof — but the stereotypes persist nonetheless.
"Women are still almost nonexistent in heavy or hardcore music," Noisey's Hannah Ewens wrote in November 2014. "It's as simple as that." But Tricot are tearing down the appalling assumption that women can't do — and some even argue, don't like — math rock, though Tricot aren't necessarily making their music with that assumption in mind.
"I don't know ... I think it's rock," Kida told NME when asked if they considered themselves math rock. "We don't set out to make complex songs, but people say our music is complicated. In our songs there are many elements and gimmicks from various genres, which might be confusing. We just enjoy making songs."
And we enjoy listening. Tricot are shattering the stereotypes of both Japanese music and female musicians, and their latest album is a testament to their pioneering ways.