This Arkansas Police Officer Is Going Viral for All the Right Reasons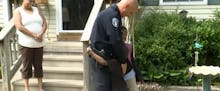 Tommy Norman is everything a police officer should be.
Norman was just another anonymous officer in the North Little Rock Police Department in Arkansas when he was recently discovered on Instagram by Atlanta-based rapper Michael "Killer Mike" Render. The thousands of quirky videos and images of him interacting with community members went viral.  
This photo pretty much says it all:
Norman has been with the force since 1998 and, over the course of his 17 years of service, became legendary for a commitment to his community that goes beyond what Americans have come to expect from police officers.
Norman previously received national recognition for his commitment in 2011, winning the top prize in a contest sponsored by the now-defunct show America's Most Wanted. At the time, KTHV-TV commended Norman for a program he participated in which he delivered backpacks and shoes to needy children, and for volunteering with numerous causes, like the Special Olympics.  
A look through officer Norman's more than 8,500 tweets and Instagram posts reveals a man who has reached deep into the community he serves, forging relationships and breaking down barriers. Norman told local KTHV-TV that the key was engagement. 
Contrary to what it might seem, North Little Rock is no walk in the park. Neighborhood Scout reports the city's crime rate was significantly higher than the state of Arkansas and it was more unsafe than 97% of other U.S. cities.
It goes without saying that Norman is white, and many of the individuals in his most touching photos are not. Norman's tremendous achievement building trust with the community he serves stands in stark contrast to officers and departments around the country where police have made headlines because of people they've killed, not people they've brought together.  
The implications for an approach like Norman's could be far-reaching.
Norman recalled to CNN how a murder suspect had surrendered peacefully to him in 2001 based solely on the strength of his reputation as a trusted figure in the community. It's hard, for example, to imagine any similar scene happening in a place like Baltimore, where six officers are currently facing charges relating to the homicide death of Freddie Gray on April 19. 
For police departments around the country, rebuilding trust and legitimacy is going to require more than body cameras. Officers like Norman going deep into the communities served and forging real relationships with those residents is not just the decent way to go, or the smart way to go, but increasingly the only way to go.