Apparently 42% of Tinder Users Are Already In Relationships, Depressing Survey Finds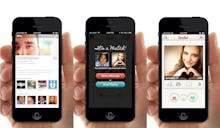 The dual blessing and curse of Tinder is that you can't tell much about a person when you swipe right on their profile — what their politics are, what kind of work they do... or if they're in a relationship.
Yes, we're sorry to report that, according to new data, a surprisingly large number of Tinder users are actually not single. In a massive online survey of 47,622 Internet users, research firm GlobalWebIndex found that of the 621 respondents who had used Tinder in the last month, 30% are married and another 12% are "in a relationship." 
For comparison, 54% reported their status as "single," and 3% are divorced or widowed.
As the Guardian nicely put it, the numbers "suggest the app has a wider demographic" than we typically imagine. Seriously.
Welcome to Tinder tourism: GlobalWebIndex's data, collected independently and shared with Mic, identified Tinder users by asking its 47,622 respondents ages 16-64, across 33 different markets, about their mobile app habits, including which apps they've used within the last month. Overall, just 1.3% said they had used Tinder; the relationship status percentages reflect that small group of 621.
That's a small fraction of Tinder's supposed 24 million monthly active users (and Tinder hasn't — and probably won't — confirm GlobalWebIndex's relationship status findings). Still, we shouldn't be so surprised by the numbers. Given the attention and hype that Tinder has, it's become cultural shorthand for describing the modern dating and sexual landscape. That means it attracts curious eyes, including those in relationships who are intrigued by the swipe culture.
Some are mere "Tinder tourists," aka your couple friends who get a kick out of swiping together — or an ego boost from swiping alone. "For them, it's a playground, consequence-free,"as  the Cut described. Such passive swiping is becoming common enough to prompt the debate: Is having a Tinder profile cheating? (For what it's worth, 67% of women think it is while only 43% of men do, according to a YouGov poll.)
But as Jezebel noted, "It all depends on the swiper." For all the innocent Tinder tourists, there are also undoubtedly married and otherwise unavailable lurkers swiping right and tossing out "hey"s and "what's up"s left and right. See: this "Using Tinder to Find an Affair" guidebook. (Shudder.)
But the fact that there are creepers all over Tinder who should be avoided? Any Tinder user worth her "unmatch" button already knew that.
UPDATE - May 7, 2015, 6:44 pm: Tinder reached out to Mic to comment on the survey's findings, noting the small sample size of respondents:
"The results of this tiny, 681 person study in the UK is a totally inaccurate depiction of Tinder's userbase — this firm is making guesses without having any access to real data on our millions of users worldwide. Here are the facts: The single largest age group on Tinder, making up more than half of our entire user base, is 18-24, and 93%+ of them have never been married according to the UK's Office of National Statistics." 
UPDATE - May 7, 2015, 12:26 pm: In case you didn't believe the stats, Reddit has kindly provided some humorous evidence. (Thanks, BroBible.)