'The Mindy Project' Got Canceled — but There's Still Hope for Fans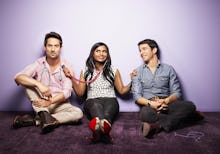 Bad news for Mindy Kaling fans: Fox has cancelled The Mindy Project. Good news: There's still hope.
Entertainment Weekly reported the sad news yesterday ahead of next week's upfronts. Though networks will announce their full programming slates for the fall next week, some decisions are announced ahead of time. In this case, it appears the decision was made early to give Hulu a crack at picking it up for a fourth season — which seems very possible at this time.
The cancellation news shouldn't come as a surprise for those who follow Mindy's ratings. The third season finale, which aired this past March, drew only 2.1 million pairs of eyeballs for a 0.8 rating, its lowest of the entire series. (By comparison, Fox's massive hit Empire drew a 6.9 rating for its finale and was watched by more than 17 million viewers.) So you'd forgive Fox for thinking fans were over Mindy.
They weren't. As People noted, some on the Internet absolutely lost it.
Kaling is clearly a beloved figure in pop culture. The Tuesday announcement of her new book, Why Not Me?, drew a chorus of cheers. As a woman of color who stars in, writes for and executive produces a show that's very much her vision, Kaling is a role model.
Unfortunately, the fans who are so upset on the Internet today weren't showing up in the droves necessary to keep the show on the air.
A Hulu pickup isn't guaranteed, but considering the streaming service already owns exclusive rights to broadcast the first three seasons, it feels like a natural play. Universal Television, the company that produces Mindy, wants to push the show to the 100-episode threshold that would make it a viable syndication option.
More cancellation and pickup news will be coming next week at Fox's upfronts presentation. In the meantime, it seems like Kaling isn't sweating it; she posted an Instagram video from Montana with the simple caption, "Hey guys, I'm in Montana, is anything happening in LA? #themindyproject."