The NBA's Cavs Showed the Worst "Comedy" Sketch During Wednesay Night's Playoff Game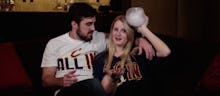 Basketball fans watching game two of the playoff series between the Cleveland Cavaliers and the Chicago Bulls were treated to a curious video on Wednesday on the Jumbotron during the game. 
Barely a minute long, it shows a man and a woman dancing in what started out as a mildly clever homage to Dirty Dancing. Things took a very different turn, however, when the man threw the woman to the floor. "Bulls fan," he snorts in disgust, noticing for the first time her Chicago Bulls shirt. "Can't believe she's a Bulls fan." While the woman writhes on the floor, a voiceover warns that Cavs fans need to be "all in"  — the team's playoff slogan — adding that they shouldn't "make the same mistake she made."
Literally adding insult to injury, the video ends with the woman in a Cavaliers shirt holding and ice bag to her head. The man who just threw her to the ground chides her for the mistake of doubting his team, one arm draped over her shoulder. "I'm all in now, let's just watch the game," she says in a wooden delivery perhaps reflecting her own rising doubts about the sketch.
The Cavaliers media team removed the clip from Vimeo shortly after uploading, SportingNews reported, but the damage was already done. Real-time reactions from fans and others on Twitter expressed surprise and outrage for such a tone-deaf misfire from the team.  
Aside from being an objectively unfunny sketch with lazy writing, the plodding attempt at humor makes light of an all too common problem in professional basketball: domestic abuse.
In 2007, all-star Ron Artest (who today goes by the name Metta World Peace) pleaded no contest to charges of domestic violence after an argument with his wife. Former Gold State Warriors guard Jason Richardson was arrested and charged with domestic violence for allegedly kicking an ex-girlfriend in 2003, and Boston Celtics forward Jared Sullinger was brought up on charges (later dropped) for a similar confrontation in 2013. In the United States, 25% of women will experience domestic violence at some point in their lives.
While the causes of such abuse are complicated and different in every case, making fun of abuse is never going to improve the situation. If the Cleveland Cavaliers are "all in" for the kind of message this video sends, then they shouldn't be surprised if everyone else is out.
On Thursday, the Cavaliers organization issued a formal apology for the video:
Updated: May 7, 2015 5:45 p.m.