8 Badass Young Women You Definitely Need to Know in 2015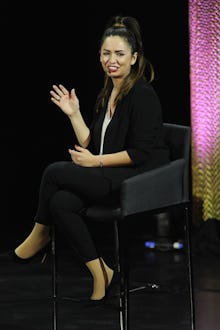 Twenty-first century female leadership has largely become synonymous with a stock collection of prominent figures here in the U.S.: Hillary Clinton, Oprah, Gloria Steinem and Ruth Bader Ginsburg are in that canon. While they're undeniably worthy of praise, plenty of young female movers and shakers are following in their footsteps. 
Here are just a few badass women doing incredible things in the U.S. and around the world, who you may not have heard of yet, but should definitely know. 
Tima Shomali
Jordan is a conservative country, especially when it comes to women's issues. Yet the most popular Jordanian web show, FemaleShow, is hosted by a woman and attracts 25 million viewers, according to Women in the World.
"In the Arab world, we have a lot of censorship," the show's host, Tima Shomali, said at the sixth annual Women in Women in the World summit in April. "On all TV channels, there are limitations, rules. YouTube and online, it gives you space to talk about what you want."
Shomali, who was named one of the 100 most powerful Arabs under 40 in the world and "the Tina Fey of the Arab world," certainly talks about what she wants, including issues like sex, dating and sexual harassment.
She has been deemed the "first female comedian" in Jordan. But thanks to her trailblazing efforts, she likely won't be the last.
Elizabeth Holmes
That Elizabeth Holmes recently became the youngest self-made billionaire to make the Forbes 2015 Female Billionaire List at age 31 is impressive. What's arguably even more impressive, though, is how she did it: Her company, Theranos, developed a quicker, more convenient and less expensive blood testing technology — an affordable medical solution with the potential to save lives. Holmes' success proves that it's possible to achieve power and success by doing good for others.
Kavita M. Shukla
Can a piece of paper revolutionize the way we eat and even curb food insecurity? Kavita M. Shukla believes her special sheets, known as "FreshPaper," can do just that. 
The potential of Shukla's invention — which she happened to create as a teenager — is astonishing: A quarter of the world's food supply is lost to spoilage, while 1.6 billion people live without access to refrigeration, Shukla said in a TEDxManhattan talk. FreshPaper, a five-inch square sheet of paper infused with edible ingredients, keeps produce fresh for up to four times longer than has been previously possible, according to the Daily Beast. Dubbed the "dryer sheet of produce," one simply has to place the paper on produce and it inhibits bacterial and fungal growth, which extends the life of quickly perishable produce, the Washington Post reported in 2012.
Caroline Rothstein 
"Fat is not a feeling," Rothstein notably states in her viral video of the same name. "When I feel fat, I know that means I'm feeling something else and it's worth figuring out what that is." 
Rothstein's advocacy on body image and eating disorders goes beyond this single video. The writer, spoken-word poet and president of the board of directors for Mental Fitness Inc., created an entire series of videos about body empowerment. 
"My hope is that through empowering others to honor their truths and love their own bodies," Rothstein told Mic in February, "it will bring them closer not only to respecting themselves but also respecting everyone else they know and meet." 
Behnaz Shafiei
Behnaz Shafiei, 26, is the only Iranian female motorcyclist to have professionally road raced. This is particularly notable considering Iranian women are still banned from riding motorbikes in public and aren't issued licenses, according to the Guardian. 
"The restrictions in Iran are problematic for [women]," Shafiei told the Guardian. "My wish is that this sport becomes free for women."
Despite the major obstacles female motorcyclists still face, Shafiei's groundbreaking decision to ride has garnered plenty of support. "Everyone has something affirmative to say," she continued. "There are people who can't believe a woman can ride a motorbike, but they're generally thrilled and feel very proud."
Cameron Esposito 
Cameron Esposito is not afraid to tackle a range of underdiscussed topics in her stand up routines: She has taken on everything from period jokes to explaining lesbianism to the uninformed.
But the most radical aspect of Esposito's comedy? She's unapologetically herself — which, in the male-dominated, still frequently sexist world of comedy, offers crucial representation in the field.
"Like most comics, I draw material from my life," she wrote in a 2013 Vice essay. "I am a lesbian, so when I talk about my relationship, I talk about being with a woman, and when I talk about politics, I talk about it from the perspective of someone who is still fighting for equal rights. It's not an act — it's my life, which I've turned into my act."
Aja Brown
Compton, California, was once a city notorious for its crime rate and gang presence. These days, Compton should also be known for its effective mayor: 32-year-old Aja Brown. The leader, who has multiple degrees in urban planning and economic development, made history as Compton's youngest mayor when she was elected in 2013 and has been applying her skills to help her hometown ever since.
Under Brown's watch, Compton has restructured its $40 million debt, reduced bank loans and generated budget surplus, she told Vogue in 2013. Brown isn't just financially savvy, though. She's also concerned with improving the daily lives of Compton residents. "Our crime rate is down 25%, our unemployment rate [is] down 5%, and we have nearly 1,000 new jobs coming into the community," Brown told ABC News in January.
"I'm proud of the work that we've been able to accomplish here, and I'm excited because I know that the best is yet to come," Brown told ABC News. If her track record is any indication, what's yet to come will certainly be impressive. 
Yamilee Toussaint
Women are underrepresented in STEM fields and girls' interest in the field is declining. But Yamilee Toussaint is combating this in a highly creative way: through dance. 
"I've learned through my own experience as an engineering student and later as a [Teach for America] corps member that confidence is one of the main barriers that keeps underrepresented minority girls from entering (and staying in) STEM," Toussaint, a dancer who studied mechanical engineering at MIT, wrote in a post on Teach for America's website. "I believe that confidence built from dance translates to confidence in any endeavor in life, even in the STEM classroom."
Toussaint's organization, STEM From Dance, accomplishes this by exposing minority girls in low-income communities to "intensive and rigorous instruction in math and science courses" with an "introspective and challenging dance curriculum" and "interactive and compelling activities to increase STEM exposure," according to the organization. 
"We envision a nation where underrepresented minorities are equally empowered to achieve job and economic security," the website states. With Toussaint at the helm, it seems this goal is likely to become a reality.