These Amazingly Honest Videos Will Remind You Exactly Why You Love Your Mother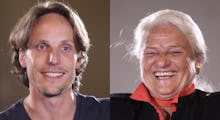 If you were being completely honest with your mother, what would you say to her?
That's the question an ongoing series of interactive documentaries, The And, posed to mothers and their children. The series' new videos, posted just in time for Mother's Day, feature three endearing moms and their equally charming progeny having the most intimate, honest and candid conversations of their lives.
The mother-child pairings vary: 7-year-old Alexa talks with her mother, Alejandra; Justin, 34, appears with his mom, Gesine; and Scott, 35, addresses his mother, Margaret. But all three manage to do what mothers and children forget to do all too often: say out loud what we love about each other.
"Why do you love me?" 
"How am I most like you, and how does that scare you?"
"How can I be a better mom?"
Sitting across from each other, the moms and kids open up in revealing, at some times humorous and at others gut-wrenching, ways. They remember the embarrassing moments, the struggles and the triumphs. But mainly, they get incredibly honest about a love we don't express to each other enough.
"All of them are really special in their own way," Julia Gorbach, a representative for The Skin Deep, the film company behind the videos, told Mic. That uniqueness comes through beautifully, from the perspective of a young girl with no filter to the position of someone who is transgender, as Scott (who recently made TV history by becoming the first transgender actor to star in a main role on daytime TV) is.
But the common thread throughout is the vulnerable intimacy that a mother and child can share, if only they sit down face-to-face and speak honestly. The videos deliver an accelerated intimacy not unlike the 36 questions from the viral Modern Love essay, based on the classic psychology study by Arthur Aron. When we sit across from one another, making eye contact and participate in mutual self disclosure, we build trust and develop deeper relationships. 
That intimate connection only multiplies when the person sitting across from us has known us since our very first breath.
"We are living in a time where we are all testing and questioning love and our structures of family and relationships in a way never done before in human history," Topaz Adizes, the series' director, explained to Nerve. "As we continue growing and learning about one another, maintaining honest communication is a fundamental part of that."
We're believers. Watch the videos below. Then promptly tell your mom how you really feel about her.