The Ultimate Binge-Watching Guide on Netflix for Feminists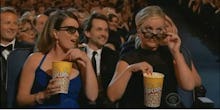 Feminists and their allies in need of some popcorn-munching entertainment need look no further than their Netflix accounts. While the offerings vary monthly, at this very moment Netflix has a fine selection of high quality films and television shows with a truly feminist bent. 
What makes a film or show feminist is not just a matter of having women on screen. Passing the Bechdel Test does not necessarily mean a film or show is feminist, just as the representation of "women feeling empowered is not the equivalent of empowering women," illustrating how Peggy Olson is not a feminist character. 
Instead, each of these 13 films and five television shows on Netflix promotes or celebrates women as a whole and women's issues.  
9 to 5 (1980)
Dolly Parton, Jane Fonda and Lily Tomlin. Greats in their own right, they were even greater when they came together for 9 to 5, arguably one of the greatest feminist films of all time. The conversation in this film about sexism in the workplace extends beyond basic discussions about pay equality to in-office daycare and flexible work hours. It's astounding to think that this film is 35 years old, when the workplace politics of these women seem more progressive than what is espoused in contemporary workplace comedies.
Dark Girls (2011)
This documentary tackles prejudices faced by dark-skinned women throughout the world, inside and outside of black communities. It examines how racism and classism interplay with skin color while discussing how women's self-esteems are affected by these forms of prejudice. 
Breastmilk (2014)
This documentary seizes upon current discussions about the social decorum and societal pressures and stigma women face around breastfeeding in general and breastfeeding in public. 
After Tiller (2013)
Dr. George Tiller, one of the few doctors on public record to perform late-term abortions, was murdered in Kansas in 2009. In After Tiller, filmmakers Martha Shane and Lana Wilson interview the only four doctors remaining in the United States who perform these abortions. 
Anita (2013)
In 1991, Anita Hill faced additional insult to embarrassment when put on trial during the confirmation hearings for Supreme Court nominee Clarence Thomas, whom she accused of repeated sexual harassment and assault. Decades after the hearing, Hill speaks about this daunting time. If you think women are treated poorly now when it comes to being heard in cases of sexual assault, wait until you see Anita's story.
Tootsie (1982)
This film exposes sexism through a kind of Shakespearean gender inversion. You may recall Dustin Hoffman breaking down during a 2012 American Film Institute interview in which he explains how playing Tootsie give him an "epiphany" about how daily sexism affects women in myriad ways, and, more critically for him, how sexism had "brainwashed" him to only pay attention to certain types of women. 
The Invisible War (2012)
This documentary fearlessly exposes the epidemic of rape and sexual assault in the military. Through a variety of interviews with current and retired Army vets, we learn about how pervasive sexual assault is in the military, and how it affects the women who have to live through it.
Advanced Style (2014)
Some of New York City's best-dressed women are well over the age of 65. In Advanced Style, a documentary inspired by photographer Ari Cohen's blog of the same name, we learn that beauty does indeed occur at any age. 
Miss Representation (2011)
The representation and portrayal of women in the media has historically been infuriating. From underrepresentation to sexist stereotypes, this documentary looks specifically at how the media negatively affects women in leadership positions, especially in politics.
The Punk Singer (2013)
Want to know why Boston celebrated singer Kathleen Hanna and Riot Grrrl Day last month? Watch this documentary and find out (while also trying not to cry). This documentary charts Hanna's career, from lead singer of Bikini Kill to the long hiatus she had to take because of the debilitating effects of Lyme Disease. Now Hanna is back in action with the band Julie Ruin, and this documentary proves why she is and will always be "the queen of [our] world."
Girl Rising (2013)
In association with the global campaign to champion the education of girls across the globe, we hear stories from nine girls around the world. With voice-over narration from celebrities like Cate Blanchett and Meryl Streep, we learn about the various injustices they heartbreakingly live through on a daily basis. 
In A World (2013)
Lake Bell wrote, directed and starred in this comedy about sexism in the workplace and the gender stereotypes of women's voices. Her character, voice actor and coach Carol Soloman, has to fight for advancement in a voice-over industry that privileges the sturdy and stoic voices of men, and prefers pip-squeaky, "sexy baby"-voiced women. While the plot focuses on Soloman's personal and professional successes and failures, the larger message imparted to women is to stop manipulating their voices to make guys like them.
The Hunger Games: Catching Fire (2013)
The second installment of the Hunger Games trilogy, in which the plot picks up with Katniss Everdeen agreeing to serve as a resistance leader: the symbolic mockingjay. Katniss is not a feminist solely because she is a strong young woman. She is a feminist because she fights against the Capitol and its totalitarian regime. She fights for her sister, her mother and for the civil rights and equality of all people.  
Makers: Women Who Make America (2013)
Makers is 20th-century history of American women that you won't find in generic high school history books. The series digs in around the publication of Betty Friedan's The Feminist Mystique and continues through the failure of the ERA in 1982 and into the current era of feminism. 
Buffy the Vampire Slayer (1997-2003)
A female savior, one born every generation, to save the world. Joss Whedon's cast of characters show how feminism kicks ass, literally. Buffy needs no introduction; watch it, "once more, with feeling."
A Different World (1987-2003)
This Cosby spinoff features Lisa Bonet as Denise Huxtable going to college at the prestigious Hillman, her father's alma mater. Denise makes a coterie of fantastic female — and feminist — friends, including Whitley, Jaleesa, and Marisa (as in Marisa Tomei). While Bonet and Tomei transferred out of Hillman after the first season, the show took off later and became a funny, fresh take on young black college students in the late '80s and early '90s.
The Bletchley Circle (2012-)
In this fantastic British murder mystery series, you follow four female code breakers, some relegated to being housewives after working together in Bletchley Park to help break Nazi codes during World War II. The women reunite after discovering a string of murders in England, with the first series ending in a particularly thrilling fashion.
The Powerpuff Girls (1998-2005)
Feminist superheroines, The Powerpuff Girls can be consumed en masse on Netflix. From subverting sexist stereotypes to fighting crime, these three animated girls pack a whole lot of feminist punch.