The Story of Reese Witherspoon's Comeback Will Make You Love Her Even More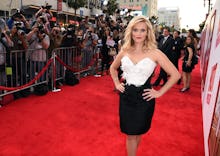 Call it the Reesaissance. The Reesurgence. The Witherboon. The name doesn't matter, but the case is simple: Reese Witherspoon is back.
It wasn't so long ago the actress won her Oscar for Walk the Line. Or was it? 2005 was in fact a decade ago. Keeping that in mind, it's clear just how barren Witherspoon's post-Oscar career really has been. She spent years toiling in Mediocre Movie Wasteland, and for a moment, it seemed that America's onetime sweetheart had gone sour.
But a funny thing happened when all seemed lost: Witherspoon got arrested. 
Somehow, one stupid mistake led to an image revitalization, career revival and her first Oscar nomination since her run as June Carter. Now, with the critically ravaged but sure-to-be-fun Hot Pursuit out this weekend, we take a look at how Reese got her groove back.
Her dark period. The former queen of the ambitious career move — think the super unlikable Tracy Flick character in Election or her choice to helm the Legally Blonde mini-franchise — fell into lazy patterns after her Oscar win. Titles like Rendition, How Do You Know and This Means War didn't set the critical or commercial worlds on fire, but they were never going to. One look at Four Christmases' plot can tell you that it was never meant to be a boon to her career.
Rendition is an interesting case: The film about the detainment and torture of Witherspoon's character's husband was very appropriate in 2007. Unfortunately, director Gavin Hood (of the awful Ender's Game film adaptation) couldn't make Rendition extraordinary, and Witherspoon's role didn't give her much to do.
So the actress floated for a while, career stable but slowly eroding. What happened to the zealous and funny woman who had shone in both comedy and drama? Had winning an Oscar drained her passion? It seemed like she needed a jolt.
On April 19, 2013, she got it.
Her embarrassing run-in with the law. Witherspoon's arrest for drunk and disorderly conduct and the subsequent media blitz will one day be studied in college public relations classes. Just imagine what the professors will be saying: "Now, you never want to encourage your client to get drunk and drive, but if they just so happen to... "
The arrest itself was like a short film. Her husband, Jim Toth, got pulled over for drunk driving, and Witherspoon was not having any of it. "Do you know my name?" she shouted at the police officer. "You're about to be on national news!" She even claimed she was pregnant (she was not). It was the best movie she made in years.
Her subsequent Good Morning America interview was the sequel America needed. Like a college sorority member imploring the Greek Council that their chapter is very, very sorry for what happened at the Phi Kappa party, Witherspoon took full responsibility. She even got a cute joke about not being a lawyer in real life in. ("See?" the PR college professor will shout at the class. "She's making people remember Legally Blonde! She's making them remember they love her!")
The Washington Post's Emily Yahr described the incident as "cut[ting] against her image as a super-controlled goody-goody." That's about right; the arrest was America's introduction to an edgier Witherspoon. She wasn't quite Witherknife, but maybe Witherspork? Yet, if she'd just left it there, this new version would have remained a fun but irrelevant curiosity. What came next made her a star once again.
A slow, but stylish, comeback. What came after the arrest, however is what really cultivated her new persona. She joined Instagram, curating an account that Gawker's Caity Weaver called partially a cute collection of Reese being Reese, and partially "maintained by an eidolon we will call Laura Jean ... [who] is a hellcat who will meet someone and tell them 'I don't know what your fuckin' name is,' then give them unsolicited bedroom advice in an elevator."
The incident Weaver alludes to in the second half of that is when she was caught on video drunkenly talking to Cara Delevingne. Combined with the often-feisty Instagram persona and the time she was caught dancing like no one was watching in Italy, the new, slightly wilder Witherspoon was clearly here to stay.
In the meantime, she went on what fashion bloggers Tom Fitzgerald and Lorenzo Marquez termed her Parking Lot Tour. Witherspoon wouldn't walk five feet outside her door without looking flawless. It may seem minor, but she kept showing up on blogs and in tabloids looking fantastic. This wasn't just a girl one laughed at for getting arrested; this is a girl one laughed with, because she's the ideal best friend. She made people root for her. She cued herself up for an incredible comeback year.
Her fantastic 2014. That comeback year involved major successes both on-screen and off. She produced the hit film Gone Girl, then produced and starred in Wild, earning her first Oscar nomination since her win. With other appearances in films like Inherent Vice, Witherspoon was suddenly everywhere, but not in a suffocating way. Hers was a welcome presence — one America greeted with open arms and a glass of wine (after checking that she wasn't driving, of course).
Wild in particular was a huge win for Witherspoon, in part because of the nature of the role. She played real-life figure Cheryl Strayed, who hiked the Pacific Crest Trail in an attempt to find herself. This wasn't Eat, Pray, Love, though. Wild is cutting, and Witherspoon's performance is particularly impressive. She gave Strayed the humanity of someone who had lost it all, including her mother (Laura Dern), and was just trying to find her way again.
Meanwhile, during her awards season tour for Wild, Witherspoon joined the #AskHerMore campaign, designed to get red carpet interviewers to go a bit deeper than just asking about clothes. The movement was a big success at the Oscars, and Witherspoon was one of its most visible champions. She used her reclaimed celebrity for more than personal gain — she used it to make a difference.
Witherspoon's comeback was welcome — one America greeted with open arms and a glass of wine (after checking that she wasn't driving).
Witherspoon's metamorphosis into the new phase of her career is complete. What she does next is still up in the air — she's got a couple movies in the works, so hopefully the woeful Hot Pursuit won't stay on people's minds for too long.
Yet even if it's a disaster that scars her career, something says Witherspoon will find her way back. She's pretty great at that, and she has our love for as long as she wants it.