Native American Musicians Stand Up to Stereotypes in New Season of Documentary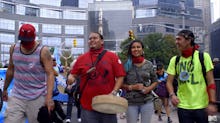 "Nothing has changed between the cowboys and indians," Native American rapper and activist Nataanii Means says in the latest episode of MTV's Rebel Music. "There's always been that 'us and them' aspect in Rapid [City, South Dakota], and it's about to explode."
On Thursday, the second season of MTV's documentary series following musicians using music to create social and political change premiered, and they just gave a huge voice to an underserved population. The indigenous community's struggles are numerous, lethal and ceaselessly overlooked. But Rebel Music makes one thing clear — Native American musicians aren't standing for it any longer.
Rebels with a cause: "We're the original people of this continent and this country but [we're] forgotten about," Means says in the opening of the episode. Means is the son of the late Russell Means, activist and leader in the American Indian Movement, and one of the episode's four spotlighted artists — along with Mike "Witko" Cliff, Frank Waln and Inez Jasper. Each artist's story deals with a different issue facing the Native American population.
Means and his frequent collaborator visual artist and rapper Cliff focus on youth suicide and the #NativeLivesMatter movement while attending a march in Rapid City. From 1999 to 2013 Native Americans were killed by police at a nearly identical rate to black Americans, as Mic reported in February. And, according to the Center for Native American Youth at the Aspen Institute, Native American youth have the highest suicide rate in the country. Yet there are still so few people talking about either issue.
Means sees the two issues as linked: "When you see your dad killed by the police, you see your uncle killed. It shows kids on the reservations that we aren't human. It dehumanizes us. So they grew up thinking: 'I'm never going to be looked at equally.'" The cycle needs to be broken.
The land: Rapper Frank Waln uses his music to deal with climate change and environmental degradation. Native American communities often feel disproportionately the brunt of our callous attitudes toward the environment. The Obama administration has been one the most sympathetic administrations to indigenous cause, as Rebel Music executive producer Nusrat Durrani told Mic. In 2014 the Obama administration allocated $10 million in an environmental resilience effort for tribes, Indian Country Today reported.
But there's still far more that needs to be done. And Waln and other activists in his community are taking those issues into their own hands. Waln captured the struggle for environmental justice in music, like he did with his anti-Keystone Pipeline song "Oil 4 Blood."
Native women: Inez Jasper deals with the unnaturally high rates of sexual violence amongst Native American women in Canada. Rebel Music shares that Native women are "2.5 times more likely to be a victims of sexual violence in their lifetimes." Indigenous women are murdered or go missing at a rate three to four times greater than the rest of Canada's population, according to the Globe and Mail.
In the episode, Jasper claims the stereotypes people have about Native American perpetrate these instances of violence.
"If I walk into a Halloween costume store, every time I encounter a Native American outfit or a squaw outfit or big chief outfit," Jasper told Mic. She cites the on-going mascot controversy and the Native American head-dress craze in the fashion world, as further examples. 
"All of this is very, deeply offensive — not to just me and my culture — but I see it as perpetuating the oppressive image of indigenous women as 'less than,'" Jasper said. "That we're not respected. That according to the Western colonial society view of our people, that we're not even human."
"Sometimes I'm don't even think society is aware of how negative those images are," Jasper said. "And that's where it's an opportunity right now for us to engage in positive conversation about what that means to us: how it impacts our community; how it's perpetuating negative images of indigenous women — the image of the hypersexual 'squaw' or Pocahontas. An opportunity for us to come together, teach and create awareness."
Jasper uses her music to create awareness and empower women to stand up for themselves and feel comfortable expressing themselves and their sexuality without feeling endangered. She is also active within her community organizing self-defense classes for young women, and songwriting to help the youth find their own voices.
Finally, people are listening: Jasper hopes the episode will help her and her fellow artists' causes reach communities that can be challenging to reach, who might not ask themselves the necessary questions regarding cultural sensitivity.
"Some people think 'Oh, I'm not racist,' or 'I don't hold judgements against the native community,' or they don't realize those things socialized within them," she said. But everyone is implicated in the ongoing struggle of Native American communities, and we need the voices Native American musicians provide if we're going to face up to the problems. Rebel Music is giving them the platform — these musicians are storming it.