The Difficult Part About Becoming A Mother That Nobody Is Talking About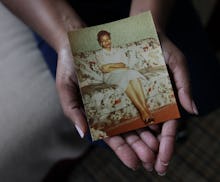 Do you love your mom?
If so, how do you show her? Perhaps you're among the millions of Americans who'll spend a combined $21.2 billion on Mother's Day gifts this year, making it one of the most lucrative holidays in the country.
Perhaps you've agreed that showering her with spa days, earrings and bottomless mimosas is the best way to show your appreciation — not just for her, but for the sanctity of mom-hood in general. But no matter how much of your paycheck goes toward brunch for her this Sunday, it won't hide this fact:
When it comes to actually advocating for our mothers — for their health, safety and overall well-being — America is a disaster.
In perfect time for the holiday, the global nonprofit Save the Children released its 16th annual "State of the World's Mothers" report. Its contents paint a dire portrait of the challenges faced by mothers around the world, including in the U.S. Among its findings are that the United States ranks a paltry 61st globally in maternal health — a pregnancy-related composite metric including mothers' overall nutritional status, "access to quality care and coverage of effective interventions to prevent maternal deaths," according to the report — putting America dead last among developed countries.
So, congratulations? Mothers in the U.S. face a 1 in 1,800 risk of maternal death, 10 times higher than their counterparts in Poland and Belarus. The rate of these fatalities as a result of pregnancy or childbirth has more than doubled in the past 20 years, the New York Times reports.
If nothing else, these figures highlight how the staggering amount of energy (and money) we pour into making Mother's Day our most extravagant Hallmark holiday outpaces the resources we put into making sure moms actually have the basic health care, nutrition and treatment access required to ensure they don't die giving birth to us. The equation seems simple — if you want a healthy and thriving society, treat the people who literally create new people as if you care that they're O.K.
Yet in far too many instances, we seem to have missed this memo. And perhaps unsurprisingly, the greatest disparities in access to these resources occur along racial, class and geographical lines — often all three at the same time.
Clear divides: Maternal death rates are higher in states with large swaths of people living below the poverty line. The Times reports that black women in America are three to four times more likely to die from pregnancy complications than their white counterparts. This pattern is exacerbated in the South, where an abundance of poor, isolated rural areas spell significant barriers to clinics and treatment for expectant mothers. Even more urban areas like Fulton County, Georgia, can see maternal death rates of 94 per 100,000 live births for black women, and "essentially zero" for white women in the same county, Mic has reported.
Plenty can be done to fix this, America. We can support affordable contraception for women who find themselves unready for motherhood — whether for financial, emotional, health-related or otherwise personal reasons — and thereby avoid many of these problems to begin with. We can vote for candidates with proven track records on gaining affordable health care access for their constituents, instead of people who think you can examine a woman's uterus by having her swallow a camera.
What we cannot do is pretend that caring about our mothers starts and stops with getting them a greeting card that plays "A Song for Mama" by Boyz II Men when they open it. Our moms deserve our unflagging advocacy and support 24/7 — and Mother's Day is the perfect time to recommit ourselves to making that our reality.