Meet the 20-Year-Old Who Just Became the Youngest Lawmaker in the UK Since 1667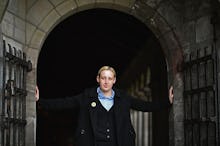 Mhairi Black has become the youngest Member of Parliament in the United Kingdom since 1667, after winning a seat as a member of the Scottish National Party in Paisley and Renfrewshire South, a constituency in Scotland, in Thursday's election.
Black became an unlikely champion, beating all odds to defeat incumbent Douglas Alexander, a Labour Party heavyweight. The politics and public policy student at the University of Glasgow is the nation's youngest elected parliamentarian since 13-year-old Christopher Monck held the position in 1667.
The victory was also noteworthy because, as the Independent reported, "Whereas Scotland was once solid Labour territory, today the party looks set to be wiped out ... [the] moment came when Labour Shadow Foreign Secretary and Election Coordinator Douglas Alexander lost his seat to a fresh-faced 20 year-old from the Scottish National Party." Black has quickly become one of the faces of the quickly growing party.
How did she do it? According to the Guardian, Black has had an interest in politics since a young age, raised in a socialist household, but the 2014 referendum for Scottish independence properly galvanized her into action. 
"Over the two years of that referendum campaign it was a political awakening," Black told CNN. While touring the country during the referendum campaign, Black said she "witnessed first hand the level of poverty and injustice prevalent in our society."
"I pledge to use this voice not just to improve Scotland but to pursue progressive politics for the benefit of people across the U.K.," she said in her victory speech. 
It wasn't smooth sailing the whole way. Black first had to remedy the damage she did for, well, being young. There were some offensive Tweets that needed deleting and some strong rhetoric that needed diluting. 
However, she won the hearts of many after her moderation, with a landslide 6,000-vote majority that represents not just a new phase for Scotland but for the whole of the U.K. political system. 
A victory for women... and youth. Many other female politicians found success during the voting. The number of female parliamentarians rose by a third in Thursday's election. Now, roughly 30% of MPs are women, marking the biggest rise in women in Parliament since 1997, according to the BBC.
While the inequitable representation of women in politics is widely discussed, youth representation often gets ignored. The status quo of older elected officials presumably stems from the belief experience makes them more capable candidates, but older candidates also arguably disconnected from the needs of younger generations.
Black is a victory in two ways, then. She is simultaneously increasing the representation of women and young people, both of which have historically been marginalized in politics. You might say it's a win-win.