The U.S. Economy Created 223,000 Jobs in April — And That's Great News for Hillary Clinton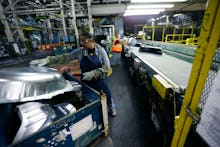 The U.S. economy added 223,000 jobs in April, nudging the unemployment rate down to a seven-year low of 5.4%, according to government data released Friday morning. An uptick in the labor force participation rate — a measure of how many Americans are actively pursuing work — indicates the unemployed are becoming more optimistic about landing jobs.
But it's not all good news: Average hourly earnings only grew by 0.1%, more evidence that the fruits of the recovery are not going to wage workers or a middle class whose fortunes are looking more and more divorced from the good and growing ones on Wall Street.
A coup for Clinton: The role of the economy in the 2016 presidential race is still taking shape, but these broadly positive trends will make it increasingly difficult for Republicans to argue for a major about-face on economic policy. 
Since President Barack Obama's first full month in office, February 2009, the unemployment rate has fallen by nearly 3 points. After peaking at 10% in October of that year, the administration has presided over a 56-month run in which the jobless rate has been nearly cut in half.  
For Hillary Clinton, the benefits are pretty easily apparent. If the economy continues along this track, she could be standing on a debate stage in the fall of 2016 representing a party that has presided over nearly six consecutive years of job growth.
Stagnant wages remain the most daunting problem — for the White House and workers — but Clinton, who has staked herself early to issues of economic inequality, should be well-positioned to argue that she is more naturally inclined and better equipped than her Republican foil to close the gap. With broad support inside her own party, Clinton has about 18 months to refine the details of her plan.