Who Tweeted "Bae" First? This New Tool Helps You Find Out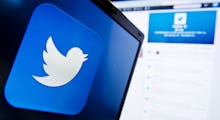 "Bae" is unavoidable online in 2015 — but do you know who first tweeted it? The answer isn't what you're expecting, but with the assistance of a new tool, you can see for yourself.
A new search engine automatically locates the first tweet including a particular phrase, link or hashtag. The service is run through Digital Inspiration blog founder Amit Agarwal's site ctrlq.org.
One quick search can reveal that the first time "bae" was used was not as an acronym for "before anyone else," but in reference to the Welsh Colwyn Bay.
The news that "bae" was first used as a Welsh word online, not as its current form, may be a bit of a letdown. But other popular Internet phrases have a much clearer origin story.
You and your friends may have started throwing shade just recently, but as others have explained, the term has deep roots in black and gay communities that far outpace current lingo.
What's updog? Not much, other than the fact that this joke is even more unoriginal than we thought.
Amy Rae probably found another chance or two to use the word "mansplaining" since she introduced it on Twitter back in 2009.
Have you slid into anyone's DMs on Twitter lately? Shake it up with an electric slide next time, like when the phrase was first used in 2011.
Long before he was our president, Barack Obama got a casual reference from fan Alex de Carvalho on his way to the Miami Book Fair. Wonder if Alex still calls him "B. Obama."
Meanwhile, the first mention of Beyoncé was a positive one, if an understatement.
Kim Kardashian may have created an empire for herself in the years since she first came to fame, but Twitter's first mention of her was, of course, that infamous sex tape.
You can also search for popular hashtags on the service to see where major movements got their start. #NotAllMen, for example, is quite a bit older than you'd expect.
Meanwhile, TEA Party Mike might want to ring up Suey Park and tell her who really wanted to #CancelColbert first.
It's not a perfect tool; the search includes current Twitter handles instead of what the handle would have been at the time of the tweet. It's impossible to figure out who really tweeted "surfbort" or "on fleek" for the first time, because those phrases are now in users' handles. And of course, some words are too common to be registered as their slang form.
One thing's for sure, though: No matter how you spell it, "yaaasss" is older than you'd think.