The Department of Justice Is Launching an Investigation Into Baltimore's Police Tactics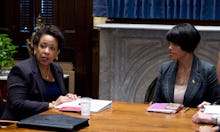 On Wednesday, Baltimore Mayor Stephanie Rawlings-Blake asked the Department of Justice to launch an inquiry into potential civil rights violations committed by her city's police department. Less than 48 hours later, new U.S. Attorney General Loretta Lynch accepted her request.
"The investigation will begin immediately and focus on allegations that the Baltimore Police Department officers use excessive force, including deadly force, conduct unlawful searches, seizures, and arrests, and engage in discriminatory policing," Lynch said Friday morning.
DOJ investigators will, as set out in a press release, work to "determine whether there are systemic violations of the Constitution or federal law by officers of BPD." Their work will run concurrent to an ongoing civil rights probe into the killing of Freddie Gray, a 25-year-old West Baltimore man who died after suffering a catastrophic spinal injury while in police custody.
Last week, the state's attorney for Baltimore slapped six officers with 28 criminal counts, ranging from Second degree "depraved heart" murder to multiple counts of assault and false imprisonment, in connection with Gray's death, which the medical examiners labeled a homicide.
Gathering storm: The DOJ has carried out these "pattern or practice" investigations for decades, including 20 over the past six years, according to a New York Times report. However, reports delivered in the aftermath of Michael Brown's death in Ferguson, Missouri, and subsequent nationwide protests against police brutality have brought added public scrutiny to their findings. 
In December of last year, the Cleveland Police Department was called to the mat by federal investigators for the second time in a decade. Released just two weeks after an officer previously declared "unfit for duty" by a neighboring department shot and killed 12-year-old Tamir Rice, the DOJ uncovered a stomach-turning pattern of abuses, including repeated violations of citizens' Fourth Amendment protections.
Exactly three months later, former Attorney General Eric Holder's investigation into the Ferguson Police Department exposed deep-seated institutional corruption and racism in the city's law enforcement and municipal government. In addition to persistent and disturbing anecdotal abuses by uniformed police, DOJ officials found that, between 2012 and 2014, black residents were "more than twice as likely as white drivers to be searched during vehicle stops, but 26% less likely to be found in possession of contraband." Subsequent fines and summonses were used to fund a mostly white city government apparatus. 
What's next: During her press conference Friday, Lynch said her team had already begun its work in Baltimore. 
"In addition to gathering information directly from community members, pattern or practice investigations involve interviewing police officers and local officials," the DOJ said in its statement. That means "gathering information from other criminal justice stake holders, such as public defenders and prosecutors; observing officer activities through ride-alongs and other means; and reviewing documents and specific incidents that are relevant to our investigation."
There is no timetable for the completion of the report, which will eventually be presented to Mayor Rawlings-Blake. If a pattern of abuse is detected, federal officials will begin work with the Baltimore city government on crafting a court-enforcable plan to reform the police department.