We're Obsessed With the Freakin' Adorable #TherapyDogs of Instagram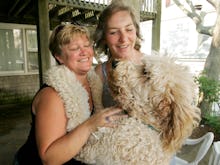 The Instagram hashtag #therapydogs is a form of therapy in and of itself. There are thousands upon thousands of shots of fluffy pups whose job it is to make people's lives better. While one could argue that pets in general serve this purpose, friends like Igor Pugdog and Finn the beagle go a step further. 
Who do they help? Hospital patients, hospice residents, children, stressed-out college students, the disabled and those with physical and psychological conditions, among many others. They can lend a paw to someone in need, and luckily, their owners are there to document it.
Take Igor Pugdog, for example: 
The multifaceted canine — he's also a freelance actor and model — is a R.E.A.D.- and child-tested therapy dog, which means that kids can read to him in order to further their own literacy skills.
Here's Igor and a few of his companions: 
But he's not the only adorable therapy dog out there. Check out these furbabies:
Stella lives in Sweden. Here she is playing outside:
Flynn works as a therapy dog in the health services office of the Northern Alberta Institute of Technology:
Charlie, a deaf Dalmatian, hangs out with some sharp-dressed friends:
Tetley has had this teddy since he was 6 months old:
Zeus, a chocolate Lab who lives in Australia, is on his way to volunteer:
Norman is ready to help out at the hospital:
Bailey the Australian Labradoodle takes a break for Cinco de Mayo:
Charger celebrates Easter in style:
Chiba likes to make pig noises to get treats:
Kaxan visited Texas State University students during their final exams:
Piper visits Le Bonheur Children's Hospital in Memphis:
Dutchess (center), a blind therapy dog, went to Dutchess Community College with her friends Gracie and Moe to help the students de-stress before their final exams:
Seven-month-old Hutch is a therapy-dog-in-training: 
Kodak is a little tired: 
Remi helps out with speech therapy: 
Winnie is smaller than some of the stuffed animals at her children's hospital: 
Nugget went to the E.R., but he's okay: 
This Vizsla is on its way to a children's hospital: 
Finn the beagle takes a bath to prep for his big hospital trip:
Molly strikes a pose at the George Washington University Hospital:
Bailey the basset hound stares lovingly into the camera:
Just look at this little pup's haircut:
Leo the golden retriever puppy is training to be a therapy dog because he's laid-back and friendly, according to his owner:
If you're ever having a bad day, just look through #therapydogs — it's the best fix there is.