J.K. Rowling Just Shut Down a Misogynistic Troll in the Best Way — With a Dick Joke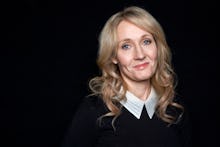 J.K. Rowling has no time for Internet trolls. 
On Friday, while in the midst of an otherwise civil discussion on the recent British elections, a Twitter user named "Steve" sent a number of especially hateful messages to the Harry Potter author after she'd been tweeting about the results.
The tweets were hastily deleted, but not before Rowling's epic smackdown and a decidedly pointed jab at his "manlihood."
Dodging the thrust of Rowling's jab, Josiah doubled down on his vitriol.  
Some came to Rowling's defense with follow up questions:
Shortly after, Rowling followed up with another tweet confirming she wasn't the only one who felt Josiah's comments were unwarranted and her response was on point.
Twitter has since disabled Josiah's account.
Though this tweet was decidedly more biting than some of her others, Rowling's response is part of her long history online combating trolls and lifting up her fans. In March, she gave an easy explanation to a fan about why she made Hogwarts principal Albus Dumbledore gay, while in January she also stood up for Muslims around the world against the bigotry of Fox News chief Rupert Murdoch. Just this week, when a desperate fan who had given up on life came to her, her response was predictably inspiring. 
The Internet can sometimes be as ugly as a Slytherin frat party, but with users like J.K. on the watch, good can still triumph. 
h/t Hypable