A Definitive Ranking of Every 'American Idol' Finalist Ever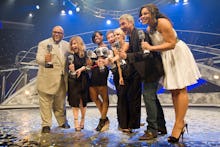 The 14th season of American Idol comes to an end this week, though you'd be forgiven for not knowing. Ratings for the once-mammoth reality show have been on the decline for years, hitting a new low this season. Monday morning, Fox sounded the alarm: Idol is being canceled, and next year will be its last. 
Yet in its darkest hour yet, it's best not to remember Idol as it is, but as it once was. It's been an incredible run, including eight years spent as America's most-watched program. It was once so huge that other networks scheduled their promising new shows as far away from it as possible. More than that, American Idol will forever be the show that launched Carrie Underwood, Jennifer Hudson, Adam Lambert and original Idol Kelly Clarkson. That's certainly nothing to sneeze at.
Of those past contestants, however, which ones stand out? As Idol's reduced audience waits to hear which of the final three — Jax Cole, Nick Fradiani or Clark Beckham — will be the next American Idol, we've ranked each American Idol finalist from the past 14 years. This includes anyone who made it to the finale of their season, as well as Cole, Fradiani and Beckham. Who's on top? It's not hard to guess.
1. Kelly Clarkson
Season 1 winner
2. Carrie Underwood
Season 4 winner
3. Jordin Sparks
Season 6 winner
4. Candice Glover
Season 12 winner
5. Adam Lambert
Season 8 runner-up
6. Phillip Phillips
Season 11 winner
7. Jena Irene
Season 13 runner-up
8. Fantasia Barrino
Season 3 winner
9. Crystal Bowersox
Season 9 runner-up
10. Jessica Sanchez
Season 11 runner-up
11. Katharine McPhee
Season 5 runner-up
12. Scotty McCreery
Season 10 winner
13. Kris Allen
Season 8 winner
14. David Cook
Season 7 winner
15. Clay Aiken
Season 2 runner-up
16. Bo Bice
Season 4 runner-up
17. Kree Harrison
Season 12 runner-up
18. Blake Lewis
Season 6 runner-up
19. Ruben Studdard
Season 2 winner
20. Lauren Alaina
Season 10 runner-up
21. Jax Cole
Season 14 finalist
22. David Archuleta
Season 7 runner-up
23. Diana DeGarmo
Season 3 runner-up
24. Nick Fradiani
Season 14 finalist
25. Clark Beckham
Season 14 finalist
26. Justin Guarini
Season 1 runner-up
27. Caleb Johnson
Season 13 winner
28. Taylor Hicks
Season 5 winner
29. Lee DeWyze
Season 9 winner