In One Tweet, Prince Just Released the Song About Baltimore We've Been Waiting For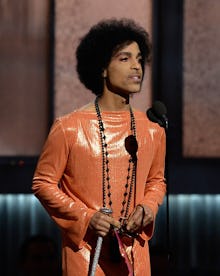 "Does anybody hear us pray / for Michael Brown or Freddie Gray? / Peace is more than the absence of war."
These haunting lyrics come to the American public courtesy of superstar Prince, who released a song Saturday on Twitter dedicated to the memory of victims of police shootings. "Baltimore," inspired by the days of peaceful protest, commotion and chaos that hit Baltimore after Freddie Gray, 25, died in a Baltimore police van on April 19, is now available for listening on Soundcloud:
It's a surprisingly upbeat song, much different from previous tunes on similar subjects that have tended to be quite sad. The Verge's Lizzie Plaugic describes it as "a delicate gospel track with a sly funk lining — it's got a Graffiti Bridge vibe to it — and paints a picture of people struggling against a world that's inherently hostile toward them." But it's also an evocative call to arms, meant to capture the sense of righteous anger over Gray's death but temper it with a call for peace and love in the face of oppression. Either way, it seems bound to both strike a chord with civil rights activists and the larger community of people concerned about police violence.
Mashable reports that Prince is planning on performing the song Sunday at the "Rally 4 Peace" concert in Baltimore. The event is intended to be "a catalyst for pause and reflection" following the hectic events of the past few weeks in the city. According to Mashable, organizers asked attendees to wear the color gray to the concert in honor of Gray's memory. The event will be available for free live viewing via music magnate Jay Z's streaming service Tidal.