Suspects In Custody After Fatal Shooting of Two Mississippi Police Officers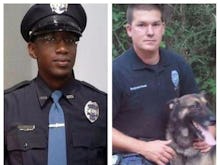 Three suspects have been arrested in connection with the murder of two Mississippi police officers during a weekend traffic stop in Hattiesburg.
The Associated Press reports that two of the suspects, 29-year-old Marvin Banks and 22-year-old Joanie Calloway, have been charged with capital murder. A third suspect, Banks' 26-year-old brother Curtis Banks, has been charged as an accessory after the fact.
CNN reports that Hattiesburg police officers Benjamin J. Deen and Liquori Tate were shot on Saturday night during a routine traffic stop gone awry. The suspects reportedly used a stolen police vehicle to flee the scene. Tate was a recent graduate of the police academy who had been with the police department for less than a year, while Deen was named officer of the year in 2012.
Police from the nearby city of Oxford expressed condolences for the slaying on Twitter.
According to local news station WDAM, both Banks brothers have "prior records as offenders in the city of Hattiesburg." WDAM reporter Ryan Moore tweeted that the last officer to be killed in the line of duty in the city was Jackie Dole Sherril, who was murdered on Dec. 31, 1984, while serving a felony warrant. The station also posted this photo of Curtis Banks being taken into custody:
Local resident Tamika Mills, who came across the crime scene soon after the shooting, told the Hattiesburg American of one of the officers' tragic last words: "Am I dying? I know I'm dying. Just hand me my walkie-talkie."
Reuters additionally reported that Deen and Tate are the ninth and 10th law enforcement officers to be shot and killed on the job in 2015.
No motive for the crime has been established, although the killings are likely to aggravate the already strained relationship between law enforcement agencies and critics of police violence. Multiple killings of unarmed black men in the past two years that have drawn national attention, while recent attacks on officers, such as a double slaying of two New York officers in December, have created additional debate about the dangerous nature of police work.